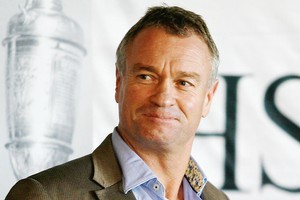 A luxury travel company which signed up two All Black legends has apologised to Auckland homeowners for delays in attracting millionaire visitors to stay for the Rugby World Cup.
Grant Fox and Sean Fitzpatrick are directors of Little Black Book, which sells "bespoke" travel packages to wealthy British rugby fans.
Others involved are Scottish rugby hero Gavin Hastings and French rugby star Serge Betsen.
The UK-based company enlisted Auckland Property Management Services to secure "five-star" accommodation, offering homeowners up to $14,000 a week.
But homeowners received a letter this week from the company saying it was disappointed and frustrated with the lack of bookings.
Managing director Howard Morley wrote: "As the Rugby World Cup is now only a few months away, questions and concerns are entirely understandable and we have been very disappointed that we have not been able to provide you with the absolute clarity we had expected."
One homeowner who was told that their property had not been let for the Cup said he had been encouraged to sign with the company because of Fox and Fitzpatrick's involvement.
He said the lack of bookings threatened to undermine the rugby stars' credibility.
Plans to build a private members' club specially for wealthy customers of Little Black Book at Britomart have also been shelved.
Speaking from Fiji, Fox said his role in the company was "small", and he was no longer actively involved. "My involvement was going to be much more to do with when the people are in town.
"Everyone we spoke to thought it was a brilliant idea but it's not going ahead."
He added that "high-end" stuff had been a struggle. "That's the battle in the marketplace. World Cup hospitality sales are struggling, too."
More than 200 Auckland homeowners tried to offer their homes for rent with Auckland Property Management Services.
The letter said the senior New Zealand representative for Little Black Book, businessman Lindsay Singleton, a business associate of Fox, was no longer employed by the company.
"The reality is that there was very slow uptake," Singleton said. "People can choose to come out at the last minute but as a business you have to draw a line in the sand."
Photographs of Fox and Fitzpatrick, and their signatures, were on the company's website promoting the deal between them.
Morley said: "They are still getting bookings but it's slower than they had expected. They want four- and five-star accommodation.
"We have more people wanting to let their houses than we will need. We will never be able to satisfy them all."
He said more than 40 people had signed up to fill accommodation, and bookings were starting to pick up.
Little Black Book claims it offers a "personalised 'cut above' service to high-net-worth clients". It offered flights, match hospitality, events, bespoke options and "whatever you need".
Director Simon Cooper said: "We are looking forward to bringing our clients to New Zealand. Cup fever is certainly what everyone is talking about here and it's looking like it will be a great World Cup."
Britomart spokeswoman Sarah Hull said it was looking at alternative locations to house its private members' club, Rees Clubhouse.