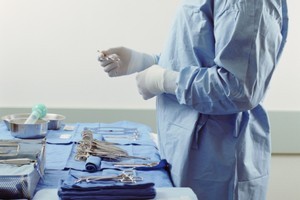 New Zealand has one of the highest vasectomy rates in the world, Auckland University research reveals - and men who undergo the so-called cruellest cut are pretty proud of themselves.
At the head of the pack is Prime Minister John Key, who stunned journalists when he announced he'd had the chop.
Asked last year what he would do for early childhood education if wife Bronagh had another baby, he retorted: "I'd be extremely worried because I've had a vasectomy."
Others who have disclosed their decision to go under the knife include comedian Willy de Wit and sports broadcaster Martin Devlin.
It can be a fearsome prospect: it is not uncommon for some men, such as broadcaster Brendan Telfer, to back out.
Telfer said he had planned to get a vasectomy after having three children, but had a change of heart. He then fathered two more children.
"I was doing it principally for my own reasons and I had the support of my wife," he said. "I guess I'm not much of a hero."
Gareth Terry's research on the subject of men, masculinity and vasectomies is due to be published in the Journal of Reproduction and Infant Psychology. The study looks at reasons for New Zealand's high vasectomy rates, which lead the world alongside Canada and Australia.
About 18 per cent of Kiwi men have had a vasectomy. Most have the procedure done when they are in their 40s.
It costs between $400 and $700, Terry said, took 20 to 40 minutes and had minor health risks. By comparison, a tubal ligation for women cost between $2000 and $3000.
During Terry's 3-year study, he interviewed 44 men and surveyed a further 150 who had had a vasectomy or planned to get one done. Many of the men used a "heroic tone" in talking about taking responsibility for birth control.
"They would refer to the sacrifice they'd made and to being on the table splayed out and going under the knife."
Half had had a "pre-emptive" vasectomy to remain child-free.
Dad put off by mate 'acting like a tomcat'
Father-of-two Brendon Smith refused to get a vasectomy because he feared it might change his personality.
Smith had noticed changes in friends' relationships and behaviour after having the operation and didn't want to go through the same thing. "In one, the minute after the male had the vasectomy he went out and acted like a tomcat, that was part of his reaction," he said.
Smith has a son and daughter, aged 12 and 14, with his former partner. He wasn't planning more children. "My main concerns are physiological changes to me, my body, my libido."
He believed many Kiwi men had a vasectomy because of fear of unwanted fatherhood.