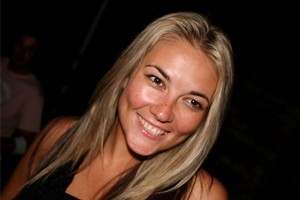 Murder-accused Brad Callaghan allegedly confessed to three close friends that he killed former girlfriend Carmen Thomas - and asked them to help cover his tracks.
These allegations are part of the police case against Callaghan, which Justice Geoffrey Venning released to the Weekend Herald and other media yesterday.
Callaghan, 33, has pleaded not guilty to murder, and the court documents are only prima facie evidence which is yet to be proved at trial.
The post-mortem examination results say Ms Thomas, 32, died from multiple blows to the head on the morning of June 29, 2010.
The fatal strike fractured her skull behind the right ear.
The couple split soon after the birth of their son Jack in 2005, but had a shared custody agreement. Police say that the night before Ms Thomas died, she contacted Callaghan concerned about their son.
They say a neighbour of Ms Thomas heard a panicked scream and whimpering coming from her Ngapuhi Rd home in Remuera.
She went to check, but no one responded when she called out to Ms Thomas.
"I stood there listening. I could hear a whimpering sound. I could also hear a male voice ssshhhing her. The male voice was saying something like, 'Ssh, ssh it's ok, be quiet'," the woman told investigators.
Soon after, police say, Callaghan came out of the flat and convinced the neighbour that Ms Thomas had vomited blood on his trousers because she was sick.
"He asked me if I wanted to go in and have a look, but I thought that if she was that ill I didn't want to disturb her," the woman told officers.
The neighbour said she sent a text message to Ms Thomas and shortly after midday received a reply.
It said: "yeah have been really sick thi week [sic]. Went to hospital for a bit. Heading down south for a week off. Will be back Sun."
The court documents say Callaghan rang a close friend - who has name suppression - and arranged to meet him at the Countdown supermarket in Greenlane.
He then sent the man a text message which read: "Can you please bring 3 black rubbish bags and a bottle me kerosene [sic] ... keep it quiet".
The friend bought a bottle of kerosene, then met Callaghan at the supermarket, where he bought large plastic bags and cleaning products, according to the police.
They say Callaghan returned to the Ngapuhi Rd flat to clean it, including wiping away splattered blood from near the front door.
He hid the body and evidence inside a large 240-litre recycling bin and took it away.
Over the next few days, the police say, Callaghan hatched a plan to dispose of the body and cover up the death.
Part of the plan was to make it seem as though Ms Thomas had travelled to Hamilton and not returned home.
On June 30, police say, Callaghan bought a meat cleaver and a 120-litre plastic bin.
He also began sending text messages from Ms Thomas' mobile phone to give the impression she was still alive.
Police say Callaghan cut her body into eight parts and put them into plastic bags that were then encased in concrete in plastic paint buckets and the 120-litre bin.
At 9am on July 3, police say, Callaghan met a second friend - whose name is suppressed - at the Okahu Bay boat ramp.
He said he had killed Ms Thomas, and needed help to dispose of the body. He also said he had Ms Thomas' phone and planned to dump her car in Hamilton.
The pair allegedly put the encased body remains into the friend's boat but then decided against disposing of them at sea. The friend later refused to help.
The next day, police say, Callaghan approached a third friend - named as Witness 79 - at his home looking stressed and "physically shaking".
Witness 79 told police he said: "Mate, what's up? Have you knocked someone up?"
Callaghan replied: "Did you say knocked up? ... Nah, nah mate, not knocked up, knocked off."
He then told Witness 79 that he had killed Ms Thomas.
Then Callaghan allegedly said he had tried to bury the remains in the Hunua Ranges, but the spade broke.
Over the next few days, police say, Callaghan drove into the Waitakere Ranges in West Auckland and buried Ms Thomas in a secluded bush area.
Late on July 7 and into the morning of July 8, they say, Callaghan took Ms Thomas' Nissan car to Dyer St in Hamilton.
He left it there, and was picked up by the friend who bought the plastic bags and kerosene for him and returned to Auckland.
Police say Callaghan texted from Ms Thomas' phone between June 30 and July 10, before reporting her missing on July 12.
Police then found her car in Hamilton, and forensic examination identified items smeared with her blood.
An examination of her home revealed blood patterns that police say were consistent with an assault.
Callaghan was arrested on September 21 and charged with murder. His trial will begin in February next year.
Ms Thomas' remains were discovered in the Waitakere Ranges on October 1.