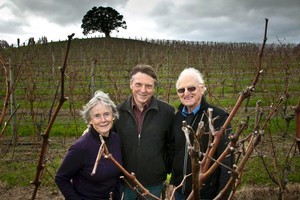 Auckland viticulture students may have to pinch themselves when they see their new classroom - on the suntrap of the southwestern slopes of Waiheke Island.
The University of Auckland has been given a $4 million section of the vineyard formerly known as Goldwater Estate, which will be the base for the wine science diploma course from next year.
Enrolments for the course are expected to double instantly as undergraduates move from the industrial campus in Glen Innes to the 14ha winery.
Wine Science director Randy Weaver said the new premises would enable New Zealand winemaking education to make ground on top campuses such as Roseworthy College in Adelaide.
"To teach theory is one thing, but to put them into a working environment where they're seeing things on a commercial scale and dealing with real-life problems will take them to a whole new level."
The vineyard, which produces Goldie Wines, will continue to operate and students will live onsite and learn from the existing staff.
Owner Kim Goldwater, whose family have nearly 100 years of connection with the university, said the gift would relieve some of the stress of maintaining the site and give students a huge headstart.
"We're not spring chickens any more. Managing 14 hectares of land is becoming quite an arduous task. And we know the university will look after it."
He bought the land for $30,000 in 1978 ("an outrageous sum at the time"), when New Zealanders were nearly exclusively beer-drinkers and restaurants served mostly sherry and American hybrids.
His first great vintage was in 1987 when a long, warm summer produced a merlot/cabernet franc that put Waiheke on the wine map.
Mr Goldwater said that even with the advantage of a science and engineering background, much of his early winemaking was through trial and error.
"Most people in the old world didn't really understand the process. They just kept on making the same old mistakes year after year. You just did what your father had done."
His 7ha of vines are on a gentle slope in clay-like soil which faces back towards downtown Auckland and catches the afternoon sun. This is the warmest part of the island, as it is protected from the prevailing winds which sweep over the harbour.
Dr Weaver said the closeness to the sea meant the climate remained not too hot or too cold, which created the extended ripening period needed for cabernet blends and syrah.
University of Auckland vice-chancellor Stuart McCutcheon said the wine science degree fitted neatly into the university's emphasis on adding value to foods through science.
"As with other food-related processes that involve chemistry and microbiology, you can add value to it significantly through scientific processes. That doesn't take away the art of it. But this gift will allow us to teach the art as well as the science."
Students of the wine course usually go overseas to research Californian and French grapes. But nearly all came back within a few years, said Dr Weaver.
There is also a growing number of international students from China and India seeking the diploma, before returning to burgeoning wine industries in their home countries.