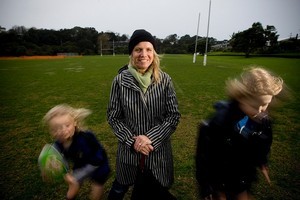 These are trying times for the rugby-phobic. As the clock winds down on 24 years, perceptions of New Zealand as a nation obsessed with a biff-bash scrap over a misshapen ball are only building.
The Rugby World Cup is an event dogged by hype, fear and loathing in equal measure: hype surrounding the showcasing and tourism potential; fear that the All Blacks won't win (again); loathing from those who maintain we're overly fixated on rugby at the best of times.
Just to reinforce fears that there is nowhere to hide, the endless analysis is spreading from the bar room to the halls of academia. Auckland University's winter lecture series, beginning Tuesday, is devoted to rugby.
For six weeks, experts will theorise on topics as worrying as "rugby's role in generating leadership capacity" and the "problematic legacy" created by the sport's historical blending of "nostalgia, myth and jingoistic nationalism".
It's quite a sidestep from the customary fare of the annual lectures - advances in medicine and engineering technology and the challenges of modern research are recent themes.
Even more from left field, the lectures are the brainchild of a feminist political scientist. One who is passionate about rugby. Rather than hitching an academic wagon to a high profile event, Dr Jennifer Curtin sees the opportunity to examine the game's place in society "in an intellectual, critical way".
She's a cowbell-toting Mooloo supporter who goes to Hamilton to watch provincial games. She has tickets to five World Cup pool games and has just bought a giant-screen TV for matches she can't get to. She loves it when Waikato beat Auckland and tolerates a husband from Bay of Plenty.
Curtin's brothers both played but that's not where her interest in rugby stems from, she says. "It was just in my world. I remember going to my grandma's house [in the 1970s] and watching games against the Lions with my aunts and uncles. It would be 6-3 but it was exciting."
For the lectures, Curtin set out to explore the place of women in the game and quickly found there's a book in it. Her research exposes the long history of women's involvement with rugby and pings chauvinist myths like a whistle-happy ref. Feminine interest has little to do with beefcake marketing of show-pony backs or any wish to support (or score) a boyfriend, she says.
"I've interviewed women in their 60s and 70s who remember going to watch rugby with their girlfriends as a social event. The rugby club was embedded in the community - it was the centre of it all."
Times have changed but women have grown more prominent as fans - particularly since they started playing the game. "It's not about watching men in baggy shorts. Most women support a team as opposed to a celebrity player. Not all of them want to see a fantastic running game and not all of them are Dan Carter fans. Women want to see good structure, good platforms, well-executed line-outs - just as men do. If you're a true fan you are interested in the game."
"There's really a large number of women out there who in very similar ways love and support the game."
Curtin's PhD was on women in the union movement and she brings a feminist spin to her day job as a senior lecturer in political studies. She's conscious that feminist literature has long associated rugby with male violence, heavy drinking and paternalism. But growing female enthusiasm for the game is a paradoxical outcome of the women's movement, she says.
"If you ask women why they play rugby, it's the physicality, not the violence - a clean tackle or a good scrum, running 50 metres and diving for the corner. It's about being able to exert to the fullest extent their physical capacity. For them, netball is too constraining."
Her sons, aged 12 and 8, play for Ponsonby. "I suppose I've indoctrinated my children. Both were born in Australia. We knew we had to get back to New Zealand before they became Wallaby fans."
They watch the premiers play in the afternoon and go back to the clubrooms for a post-match drink. "The numbers aren't what they used to be. It's important for administrators to think hard about the NPC and the grassroots of the game ... I just think my story is kind of normal for women."
Only in New Zealand? Not necessarily, says Dr Greg Ryan, who kicks-off the series by examining the game's place in our consciousness.
He agrees many New Zealanders obsess about rugby and that artistic, cultural and musical achievements sometimes get less recognition than they should. That may be because the game's global reach is relatively small and New Zealand, as a Daily Telegraph report observed last week, is "the world's greatest rugby nation".
Ryan has taught sport and society courses at Lincoln and Canterbury universities for 15 years and says that every so often a student enrols who doesn't like sport but who wants to understand what the fuss is about. I say to them: 'I'm quite happy if you tell me you don't like rugby but please don't tell me that its not important'. Whether you like it or not it has been very important to a lot of people in New Zealand at different times."
But he takes issue with those overseas commentators who portray our enthusiasm for rugby as all-consuming, even unhealthy. (The Telegraph story expressed surprise that schoolboy rugby was continuing in earthquake-ravaged Christchurch and claimed that Dan Carter and colleagues were regarded as gods.)
Virtually everywhere, Ryan says, some people are fanatical about a sport. "Some people in the UK are probably more obsessed with [fourth division] football teams than most New Zealanders are with their provincial rugby team.
"In some respects, I would argue we are more moderate - we don't riot at our sporting occasions in the way we've seen with cricket in India, or football in South America or ice hockey in Vancouver.
"There are people who want to make that commitment; they are all over the world."
Ryan says sport is universally a popular talking point because it is easy to quantify. "You don't sit down in the pub with your mates from Australia and have an argument about socio-economic indicators or the calorific content of the New Zealand diet. It will boil down to 'our sports team is beating your sports team' because it happens at a set time and place and there's a result.
"People really rally around it and pin their values on it because it's easily understandable."
As for hosting the Rugby World Cup, Ryan agrees it is over-hyped and worries about a 1999-style backlash if we lose. "There's evidence that losses do put people in a gloomy state of mind and sometimes they exercise their frustrations.
"There's a lot of mythology around the game - when the All Blacks lose, the players get flogged for failing to live up to the values of the past. There's this idea that they were all tough farmers, but they were are likely to be urban and from elite schools - players are condemned for failing to live up to something that actually never was.
"Believe it or not, the journalists in 1905 were saying 'this modern rugby's not up to much - we need to play it the way it was played in the 1880s'."
Lecture series
New Zealand's Rugby World Auckland University Winter Lecture Series
July 19: Rugby and its place in New Zealand; Dr Greg Ryan, Lincoln University.
July 26: The pride of a people - the NZ Maori team; Malcolm Mulholland, Massey University.
August 2: More than a man's game - women and rugby in NZ; Dr Jennifer Curtin, Auckland University
August 9: Leadership lessons from rugby; Professor Brad Jackson, Auckland University
August 16: Learning to transition from a professional career; Taupa'i Fa'amalua Tipi, Auckland University
August 23: The future of rugby; Chris Laidlaw (ex All Black) and Dr Farah Palmer (former Black Fern).
Venue: Maidment Theatre, 8 Alfred St. Lectures start 1pm, admission free.