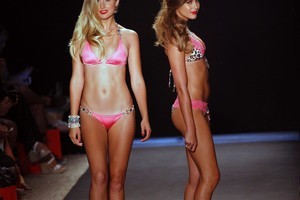 More icy and rough weather will pummel Auckland today, but experts say it is the last whip from the tail-end of a cold spell as it moves from the city.
The temperature reached only 11.1C yesterday, and heavy downpours affected most of the region.
But MetService is forecasting that the wintery gusts and downpours will wane today.
"It's not going to be as bad as it has been," a spokeswoman said last night. "There might be some heavy rain for a time, but the bad, bad weather we've had is on the way out, pretty much."
She said the wind would change from a northwesterly to a southwesterly flow, meaning it would feel a lot colder.
WeatherWatch analyst Phil Duncan also said the weather would ease, but not before one last surge of cold air that might bring hail, thunderstorms and gales.
"This is the tail-end of the system that has been with us for a week and a half," he said.
"Aucklanders - and most other parts of the country, for that matter - should see a real improvement in about 24 hours.
"The rain has eased in Auckland but now the big showers are building and moving in. WeatherWatch.co.nz has moderate confidence of some hail and maybe the odd isolated rumble of thunder.
"This new pool of cold air is coming directly out of the Southern Ocean and straight into Auckland. The next 24 hours will be very cold compared to previous days."
Mr Duncan said the long-term forecast was "a mix of good news and potentially bad news".
"We have calm and dry weather moving in for Sunday, Monday and Tuesday for Auckland, and Saturday doesn't look too bad either apart from a few remaining showers.
"But next Wednesday, we think a subtropical low will move in for a few days across northern New Zealand."
He said the low might result in above-average overnight temperatures, but also more heavy rain.
Rain would be heaviest on the East Cape but other risk areas would be Bay of Plenty, Coromandel Peninsula and Northland and, to a lesser degree, Auckland and Hawkes Bay.
A few showers are forecast tomorrow from Taranaki to Northland, but mainly fine weather is expected in other parts of the country.
In the South Island, showers are expected in and around Fiordland, as well as in Southland and south Otago.
Sunday is looking more promising, with mainly fine weather forecast for the whole country, although a cold snap is expected on the east of the North Island.