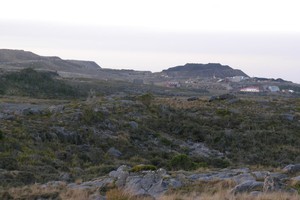 Thirty-one Solid Energy staff and contractors at the Stockton Mine on the West Coast tested positive for illegal drugs last month, it was revealed yesterday.
Solid Energy communications manager Vicki Blyth confirmed to the Westport News that Stockton Alliance carried out drug and alcohol testing at the mine during the week of June 22.
Of the 882 staff and contractors tested, 20 gave positive results for the use of illegal drugs.
Testing of a sample group of 56 sent for analysis in the United States returned an additional 11 positive tests for synthetic drugs.
Solid Energy refused to confirm that a supervisor was among those who tested positive and declined to name the drugs employees were using.
Solid Energy chief operating officer Barry Bragg said the result was hugely disappointing.
"Solid Energy and Stockton Alliance have zero tolerance for the use of any substance which impairs anyone's ability to work safely.
"People who use unauthorised drugs pose an unacceptable safety risk as they put themselves and their workmates at risk."
Mr Bragg said Solid Energy had become increasingly concerned with the rise in the use of synthetic drugs nationally and had a specific reason to believe these were being used by a group of people at the mine.
Testing for synthetic drugs would now be incorporated into the drug and alcohol testing regime across the whole company.
However, Solid Energy was pleased that the vast majority of people tested returned negative results.
"It shows their focus is on making sure they are fit for work and not at risk of hurting themselves or their workmates," said Mr Bragg.
"Our process is that people who test positive for the first time are referred to an external employee assistance programme for support and may return to work when that is successfully completed.
"Anyone who tests positive on more than one occasion has broken their contract and will be dealt with through further disciplinary procedures."
Mr Bragg said site-wide testing was part of Stockton Alliance's efforts to ensure workplace safety.
In 2008, drug testing at Stockton netted 18, mostly cannabis users.
Staff then were given a month's notice of the tests.
Stockton Alliance is a joint operation between Solid Energy and Downer EDI Mining NZ Ltd.
- NZPA