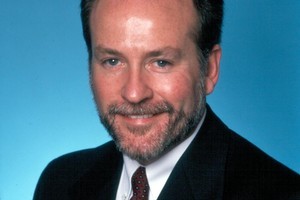 Broadcaster Jackson is disingenuous in his attacks on Radio NZ, says Peter Cavanagh, chief executive and editor-in-chief of Radio New Zealand.
Apart from his obvious self-interest, I am at a loss to understand commercial broadcaster Willie Jackson's vehement criticism of Radio New Zealand's decision to substantially increase its capacity to cover Maori news and issues.
It is understandable that Jackson is disappointed that his company has recently lost the contract to supply Maori news content to Radio New Zealand, however he should at least get his facts right.
Despite his intemperate criticism, even Jackson himself appears to agree in principle with Radio New Zealand's decision to increase its own cultural diversity rather than outsource Maori newsgathering to companies such as his.
While describing the decision as "shameful" and an "outrage", he goes on to say "producing Maori news in-house ...
is really what they should have been doing years ago".
For the past few years, Radio New Zealand has purchased raw news material from Jackson's company Waatea, which it used to produce and present specialist Maori news bulletins each day in Morning Report and Checkpoint.
When the Waatea contract expired, Radio New Zealand decided to employ its own team of Maori journalists to produce this content and to boost the coverage of Maori issues across the full range of its news and current affairs programmes.
The new Maori news bulletins, Te Manu Korihi, are able to call on the full resources of Radio New Zealand news, including our extensive network of regional and specialist correspondents.
As a result of this decision, Radio New Zealand will be employing significantly more Maori journalists than the service had been previously supplied by Jackson.
In doing so, not only will we improve the quality of our Maori news output significantly but we will also enrich the cultural diversity of Radio New Zealand as a whole - providing substantial benefits across the full range of our programming activities.
In his Herald commentary, Jackson disingenuously quotes figures purporting to represent Radio New Zealand's total coverage of Maori affairs. By confining his calculations to the daily specialist Maori news bulletins previously supplied by his company, Waatea, he deliberately ignores the many hundreds of hours of Maori-related content provided across the full Radio New Zealand programme schedule including general news and current affairs coverage, feature interviews, arts and music programmes, documentaries, drama and lecture series.
That is in addition to our specialist Maori programmes such as Te Ahi Kaa - a weekly programme "exploring Te Ao Maori and giving a voice to the diversity of Maori opinion, perspective, insight, and experience" - and our Maori music programme, Waiata.
Radio New Zealand has a specific charter responsibility to provide programming which reflects New Zealand's cultural diversity including Maori language and culture - and we take this responsibility seriously.
Jackson claims that Radio New Zealand has "cut" its Maori news. To the contrary, we are committed to expanding our coverage of Maori news and significantly improving the quality of that coverage.
It's still early days for the new Te Manu Korihi service but the feedback we've received so far has been extremely positive.