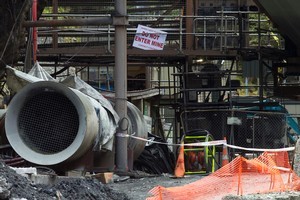 A former chief mines inspector angrily raised concerns over safety measures and called for the Pike River coal mine to be shut down before it was hit by a series of deadly explosions.
Harry Bell, an experienced West Coast miner who lost his nephew in the Pike River mine, is giving evidence to the Royal Commission of Inquiry on the tragedy this afternoon.
He said he had raised severe concerns about ventilation in place at the mine during its construction.
At one point he told mine managers their plan of drilling through a Pike River fault with a single drive entry was "nonsensical, madness".
The ventilation in place at the mine could not deal with the gases created by the process, he said.
He called for the mine to be shut down until the safety concerns were addressed and said he would be happy to be revealed as a whistleblower.
Inspectors could have prevented the tragedy
Experienced mines inspectors could have helped prevent the Pike River disaster, Mr Bell said.
He said the dismantling of the New Zealand mines inspectorate in the 1990s left health and safety in the hands of mine owners and led to hazards going unnoticed at Pike River.
"This was a recipe for disaster"
An inspector would have noticed ventilation problems and other safety dangers at the mine, Mr Bell said.
Mr Bell said in 2009 a Pike River mine official had called him to raise concerns that at least 10 "ignitions" had taken place during drilling.
He called the single mines inspector operating in the South Island, who told him he had only received one report of an ignition.
Internet compromising training
Mr Bell said he had serious concerns about the training provided to workers in modern mines such as Pike River.
He said mine training courses no longer required trainees to submit to an oral examination to go with written assessments.
Many modern mining workers get information for the written assessments off the internet, he said.
- HERALD ONLINE