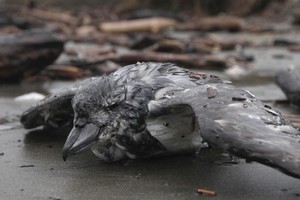 Beachgoers on the west coast of the lower North Island have been met with the sight of hundreds of dead birds, which perished after being blown ashore by stormy weather.
Peter McCallum, the manager of the Kapiti branch of the Wellington SPCA, said they were caring for about 250 exhausted broad-billed prions, the first influx of which came in on Monday.
Volunteers sent yesterday to Waikanae beach, north of Wellington, found hundreds of dead birds along the coast.
"They reported seeing numerous birds in the surf, in the surf line, and on the high tide mark. Literally hundreds of dead birds."
Mr McCallum had never seen anything like the number of dead birds in his 20 years in the area.
"I'm suspecting that there was a big feeding group in one particular area and they've just been caught up in this wind stream."
He said he expected to have more than 300 birds by today, and hoped about 70 per cent of those could be saved.
The plankton-feeding prions would be transferred to Wellington Zoo and released when their condition and the weather allowed.
Department of Conservation biodiversity programme manager Peter Simpson said strong winds hammering the lower North Island had blown exhausted sea birds inland. That resulted in beaches from New Plymouth to the Kapiti Coast being littered with the bodies of hundreds of dead birds.
Mr Simpson said the number of deaths were the worst he had encountered and were a result of the long-lasting nature of the storm.
"About three days in is when we start getting the birds so weak they get blown inshore, and then it's just exhaustion.
"They also haven't been able to feed properly because the sea is so rough, but it's mainly exhaustion and battling the wind and the seas."
People could take birds to Wellington Zoo or the Massey University wildlife centre, but most would perish, he said.
"The reality is the death rate is going to be quite high."
Broad-billed prions are not endangered.