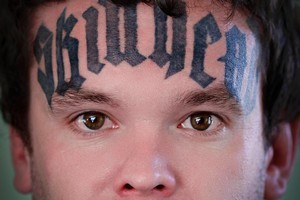 A former white supremacist wants taxpayers to help him remove his "skinhead" tattoo so he can start living a new life.
Carl Nathaniel Drewett, who has an extensive criminal record, was once proud to wear the tattoo across his forehead.
But now Drewett, 28, regrets getting the tattoo; it is one of many white supremacist tattoos on his body but is the only one that can't be easily covered.
He wants it removed but that will cost about $2500 - a lot more than the $40 he spent getting it done in prison at the age of 23.
He will need eight to 12 sessions of laser treatment, one every six weeks, but even then it is uncertain whether all traces will be removed.
Drewett's former probation officer is looking at options to raise cash for the procedure, including applying for funds through government agencies.
A Department of Corrections spokeswoman said: "A number of providers with a vested interest in this offender's rehabilitation have been approached in regard to supporting his tattoo removal".
"[Community Probation Services'] role is to manage the offender to hold him to account for complying with his home detention sentence, manage his likelihood of reoffending (including support for his rehabilitation efforts) and any risk of harm to others. However, we do not provide funding for tattoo removal."
Drewett was aware people may question spending taxpayer dollars on removing his tattoo but said: "Everyone makes mistakes, some worse than others".
"If someone is trying to change for the better, for someone to then be judgmental - it wouldn't be about me that'd be about them and how naive and judgmental they are.
"Everyone deserves a second chance ... the more help I can get the better."
He plans to put some money aside each week to contribute to its removal; his mother has also offered to help.
Drewett hopes to start laser treatment as soon as possible so the tattoo will be gone before his home detention sentence is over in a year.
He was convicted in the Rangiora District Court on Friday on a charge of intentionally injuring a man and two charges of drink driving causing injury. He was sentenced to home detention and was also disqualified from driving for a year and a day.
Drewett acknowledges the tattoo was a mistake.
"I didn't really take into consideration how the community was going to look at me when I got out. That was irrelevant, that wasn't my life, prison was my life."
He said he adopted white supremacist beliefs about the age of 13 because of his uncle's influence but now he wants to leave that life behind.
"It's a road to nowhere. The culture of it is violence and drinking," he said.
"Once this tattoo is off, many doors will open. I won't be judged as some dodgy loser criminal. In terms of employment it would help a lot."
He is considering studying business while on home detention.
- Christchurch Star