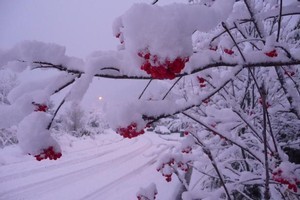 Schools are closed in 'blizzard-like' conditions in Queenstown and trucks are stuck on the main highway south of Alexandra after heavy snowfalls overnight and this morning.
Metservice has issued a severe weather warning for Wairarapa, Wellington, Hawkes Bay, Marlborough, Nelson, Canterbury, Southland, Gisborne, Westland, and Fiordland, as a westerly flow continues to bring cold temperatures across southern New Zealand.
In the southwest of the South Island, snow showers are forecast to ease this afternoon but 10 to 15cm is likely above 200 or 300 metres in Fiordland and 20 to 30cm above 400 or 500 metres in South Westland through to midnight tonight, with lighter falls lower down.
The snow is causing havoc in Queenstown with vehicles trapped and police forced to close part of the road between Queenstown to Frankton.
Up to five trucks are believed to be stuck in snow on State Highway 8 between Roxburgh and Shingle Creek.
Traffic is being diverted along SH85, the Pigroot.
The Crown Range and Lindis Pass has been closed and other roads are being assessed, police said.
Schools are open in Central Otago but some school bus runs have been delayed.
Despite the heavy snow, a Fire Service spokeswoman said there had been no weather-related callouts this morning in the south of the South Island.
MetService said the cold front, which stretched from about Haast to Dunedin at 9am today, is moving quickly northeast and should reach central New Zealand in the early afternoon and move over much of the North Island in the afternoon and evening.
The front is preceded by a band of heavy rain in western areas as far north as about Taumarunui, falling as snow on the higher ranges, and accompanied by gales, severe in exposed eastern and central areas from Canterbury to Gisborne including Wellington and northwest Nelson.
A deep low passing south of Stewart Island is likely to bring severe westerly gales near Foveaux Strait this morning, MetService said.