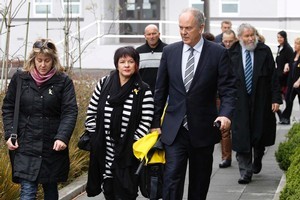 The Royal Commission of Inquiry into the Pike River mine tragedy in November will continue for the second day in Greymouth.
Former chief mines inspector Harry Bell is due to speak at the hearing today.
Some relatives of the 29 dead workers - whose remains are still trapped in the mine - were in the public gallery at Greymouth courthouse for the first day of the inquiry yesterday. Some wiped away tears as support from around the world was mentioned.
Mr Wilding said the families' patience since November had been extraordinary. The inquiry over the coming months would test their patience further "and for that we are sorry".
"This is the start of a big journey," families' spokesman Bernie Monk said.
The families' lawyer, Nicholas Davidson, QC, said the families wanted to get to the truth "irrespective of the consequences".
Nancy Langley, the mother of Rachelle Weaver - the partner of 25-year-old Josh Ufer who died in the mine, told Newstalk ZB there will be upsetting things family members don't want to hear, but hopes there will finally be answers as to happened to their loved ones.
"It's the start of a long journey, Ms Langley said.
"More answers about what actually happened
"There is a lot of evidence, a lot of people who have made submissions.
"Hopefully there will be some answers from it."
Ms Langley did not want to comment on yesterday's evidence from Don Elder, the chief executive of Solid Energy, who criticised safety at the mine.
"There have been so many theories about what happened at Pike River ... this is the time we are actually able to find out real evidence."
She believes the investigation into the tragedy will bring closure for Greymouth.
Dr Elder said Pike River Coal always had a high chance of financial failure and that "prolonged production and financial under-performance" had the potential to create safety risks at the mine.
"Incidences like this, with catastrophic consequences, shouldn't be able to occur in modern mining," Dr Elder said.
"I didn't believe it remotely likely that this event could have occurred ... if all practicable steps had been taken."
Dr Elder's claims drew a sharp response from a lawyer for Pike River directors, officers and managers, Stacey Shortall, who put it to him that he was speculating.
Asked by Ms Shortall if the Pike River mine would have been a competitor to Solid Energy's Spring Creek mine on the West Coast, Dr Elder said: "I don't believe Pike River was ever a competitor to Solid Energy."
Dr Elder agreed with Ms Shortall that his company had pleaded guilty on three occasions to breaches of health and safety legislation.
He also agreed he had not contacted Pike River Coal's last chief executive, Peter Whittall, or operations manager Doug White, to discuss with them financial under-performance and links to safety.
Earlier, commission lawyer James Wilding told the inquiry many issues would be considered, including whether financial pressures had affected health and safety at the Pike River mine.