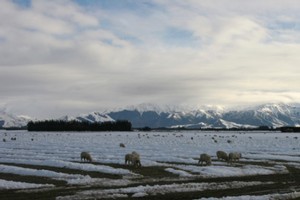 Climate scientists trawling through old records have unearthed the coldest day ever recorded in New Zealand.
The previous lowest recorded daily minimum temperature record was minus 21.6degC, recorded at Ophir in Central Otago in 1995, but now the official low has plunged to minus 25.6degC, at Ranfurly, about 60km from Ophir, in 1903.
The National Institute of Water and Atmospheric Research (Niwa) announced today the new low was discovered while old New Zealand temperature records were being entered into the National Climate database.
The Tuapeka Times, July 18, 1903, reported: "It is some years now since frost of equal severity to the present has been experienced in the district."
"I was quite excited to find the record. It's like detective work," said Niwa climate scientist Georgina Griffiths.
"We know the early 1900s were really cold, with extremely cold spells. We know that the climate of Central Otago is really unique - it's the only region of New Zealand with a continental climate. It's not surprising that the [new] record is from this area," Ms Griffiths said.
To check the accuracy of this new record low, the Niwa climate scientists looked at other meteorological data from stations in the area, which also experienced similar freezing cold conditions.
"It was consistent. The whole region (Southland and Central Otago) was extremely cold, with cold air trapped for days on end. The other observations support the extremes. The paper record from Ranfurly was consistent and the media reporting supports it," Ms Griffiths said.
- NZPA