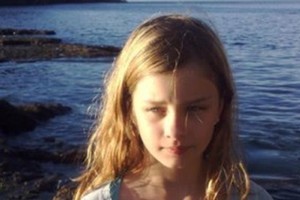 A trauma team was brought into a rural Auckland school yesterday as pupils were told a classmate had been killed in a car accident on her way home from netball at the weekend.
Bryer Rose Greenwood, 12, died in the Starship hospital from traumatic brain injuries after a horror crash on the Kaipara Coast Highway just north of Helensville on Saturday morning.
Bryer's mother was driving when her car and an oncoming four-wheel-drive vehicle collided about 10.30am.
The passenger side of the car, where Bryer and her 8-year-old sister Gemma were sitting, was smashed.
Gemma and the girls' mother remain in hospital in a stable condition.
They were too distraught to speak about the crash.
Bryer attended Kaukapakapa School with Gemma. Yesterday, news of the crash was broken to their classmates.
"Bryer was an excellent student excelling in her outstanding writings demonstrating a maturity well above her years," Kaukapakapa principal Tony Westrupp said.
"She had a warm fun-loving personality and was loved by us all.
"Bryer brought a quick wit and intelligent responses to any discussions and her academic and social contributions to our school are going to be sorely missed."
Mr Westrupp said staff and students were trying to come to terms with the news and help was on hand for those who could not cope.
"Normal school classes will continue but students will be given help where they need it as we will be providing counselling in a quiet room. We will also have members of the Ministry of Education trauma incident team at school supporting staff and students."
Mr Westrupp said the thoughts and prayers of teachers and pupils were with Bryer's family, and especially with Gemma.
Police are still investigating the cause of the crash.