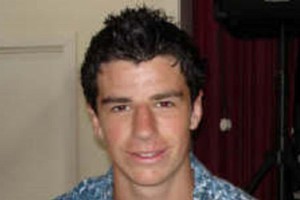 The Jetstar urinator has spoken about the flight for the first time, saying his behaviour was "disgusting and inappropriate" but he remembers none of it.
Michael Aitken, 20, son of Silver Ferns coach Ruth Aitken, told the Herald yesterday: "I need to make it clear that I apologise to Jetstar for the negative impact that has come out of it. And all the individual passengers - I also can't apologise enough to them.
"My behaviour was just disgusting, it was inappropriate and I'm going to do everything I can to make it right.
"The absolute last thing I remember was thinking, 'I have had a bit to drink', and so I closed my eyes to sleep.
"Six hours later, I remember waking up and having conversations with people around me, and I still had no idea I had done anything wrong."
Mr Aitken made headlines when he urinated in the aisle of the Jetstar aircraft in mid-flight, spraying one man's leg and a woman's scarf.
He emptied his bladder on to the aeroplane carpet about six hours into an 11-hour flight from Auckland to Singapore on June 27.
The 20-year-old Canterbury University student has returned from a holiday around South-east Asia with two friends, but still has no memory of the incident on the plane.
He admits he had been drinking before the flight.
After the incident, Mr Aitken received a warning from the Jetstar captain but did not face police action.
He said he could not remember talking to any cabin staff, and was unaware of the incident until he was approached by fellow passenger Amos Chapple in Customs.
"I just walked off the plane. When [Amos Chapple] came up to me, I had an inkling that something had gone wrong. My friends didn't know anything had gone wrong either. Both my friends had gone to sleep."
Mr Aitken apologised to Jetstar, and has sent apologies to all passengers directly affected by the incident saying how "embarrassed" he is.
After Singapore, Mr Aitken went on a 13-day trip around Vietnam.
Three days before he was to fly home, Jetstar cancelled the return flights of him and his friends. All three men were refunded half the $350 fare.
Mr Aitken said he had returned from his holiday for "intense family discussions".
His mother Ruth and father Grant Aitken had been extremely supportive throughout the whole period, he said.
"I'm taking them out to dinner when they get back home [tonight from the world netball champs in Singapore]. I've also got them a few presents each. It's the absolute least I can do."
He said Jetstar was still deliberating on whether he would face a temporary ban or a lifetime ban.
Jetstar spokeswoman Andrea Wait said the airline would decide "in due course" whether Michael Aitken and his friends could travel with it again.
The men's return flights were cancelled as "standard practice and in the best interests of other passengers".
What some people sleep through
If all else failed, Michael Aitken could fall back on an innocent reason for his behaviour - a syndrome known as parasomnia.
Auckland University sleep specialist Dr Tony Fernando says the common condition is diagnosed in many people who do unusual things in their sleep.
"They sleep walk, they sleep talk, they have sleep sex, they ride their bike," he said yesterday.
"Urinating is something that's reported. They are asleep, they get up and urinate in the corner of the room and go back to sleep in their bed."
People with the condition usually had a history of unusual sleep activity or a genetic disposition.
But it was unclear whether Mr Aitken had parasomnia or was simply drunk, Dr Fernando said.
"These things happen without people's full understanding. I have seen worse. I have seen some people committing crimes in their sleep. They have ended up in jail."