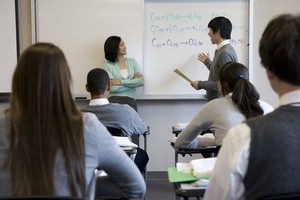 An Auckland school for more than 200 mainly Indian students has been ordered not to enrol any more pupils because of serious concerns about the reliability of its qualifications.
The NZ Qualifications Authority says it is considering further action against Ivy College in the central city and that it is not confident - the lowest possible rating - about the educational performance of the school.
Ivy College, in Albert St, has accepted it has some "teething problems" but says it is no worse than many similar international schools which the authority has approved.
An NZQA report says Ivy College claimed an 80 per cent success rate for its management diploma courses but the reviewers saw no reliable evidence to support this.
Only two students had graduated from the course and the school was unable to prove its claim that they had found top-level jobs.
The report said none of the business tutors had NZ teaching qualifications and some had very little experience of working in the NZ education system.
"This lack of training was evident in the way assignments are being marked and graded, including a lack of attention given to plagiarism."
The report said the NZQA had signalled serious concerns about moderation - the process which checks that marking is consistent and reliable - but the school had not taken sufficient steps in response.
The school was teaching one course which had not been approved. Students were admitted to courses even though their English or academic background was not good enough.
It noted Ivy College had grown rapidly to 215 students from only three in February last year and was aiming for a roll of 400. It had failed to manage education quality during this expansion.
The school's director of studies, Salil Chada, said he agreed the tutors needed better training but the review had come at a bad time. The previous owner had died and the school was rebuilding with new staff.
He said Ivy College did take plagiarism seriously and there were only a few cases of discretionary admission to students who fell just short of the entry criteria.