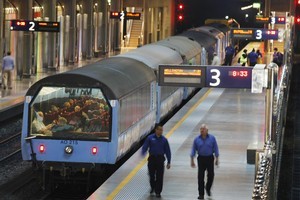 Auckland public transport users will have uniformed police officers sitting next to them during the Rugby World Cup.
Officers will use trains and ferries to get from their outer city bases to the job at Eden Park and to return.
The move has been welcomed by Auckland Council members who were concerned about enforcement of temporary liquor bans imposed from August 1 until October 31 to stop drinking in public places, stations and on trains and buses.
"They will be doing policing on the way there and back," said alcohol harm reduction officer Sergeant Jason Loye.
"Staff will split up and they won't take up a carriage.
"It also means we don't have to find parking for a whole lot of police cars."
Auckland Transport said the police officers would travel free as had always been the case.
Regulatory and bylaws committee chairman Des Morrison said members now felt comfortable about the level of preparation.
Mr Loye said police would aim to make people feel safe and to deal with any problem before it got out of hand.
"Enforcement will not be directed to strict compliance but rather the reason for imposing the ban.
"It's a question of time, place and circumstances as to whether it's appropriate to take enforcement action and to preventing antisocial behaviour in public places."
Officers on the spot would judge what was antisocial behaviour in light of observation, a complaint, evidence of intoxication and the presence of a gathering which was likely to lead to disorder and violence.
"A lot of times it will be a case of just having a chat to them about the liquor ban and asking them to tip out their liquor - a softly, softly approach."
Mr Loye said all staff on normal patrols and those rostered for duty at Eden Park and the CBD fan zones had been trained about the bans and their powers to enforce them.
Auckland Transport RWC project director Bruce Barnard said buses would not have security guards on them, as there would be up to 200 bus movements at some events.
But drivers would not allow intoxicated people to board.
At the end of an event, security staff would be at stations to back them up.
People were allowed to carry alcohol they had bought from a supermarket or bottle store but not to drink it while on board.
Passengers were entitled to carry, say, "a bottle of red" on their way to a restaurant.
But it would be pointless for them to try to take liquor to the game because it would be removed at checkpoints.
Rail network operator Veolia's safety compliance adviser, Gareth Williams, said signs would advise of the alcohol ban areas.
People boarding trains at Britomart would have to pass three layers of security monitoring.
The council licensing and compliance team leader for the tournament, Richard Sanders, said all licensed premises were aware of their host responsibilities.
Premises were also made aware of the temporary bans on the Great North Rd section of the Fan Trail to Eden Park, linking up with bans that already existed in Karangahape Rd and Kingsland.
"We want them to pass on new areas to their customers to make sure they are not inadvertently getting into trouble."
Mr Sanders said 17 licensing inspectors would work through the tournament period doing their normal work and would leave enforcing the liquor ban to police.
BOOZE-WATCH
* Extra council compliance officers.
* Boosted "city watch" security patrols.
* Liquor ban checkpoints around Eden Park and North Harbour Stadium.
* Private security to staff liquor ban checkpoints alongside police.
* Liquor safety and enforcement messages to taxis/coaches/buses to discourage drinkers.
* New temporary liquor bans apply in Albany Centre, Takapuna and Northcote; park and ride facilities of the Northern Busway and along the Great North Rd section of the Fan Trail walking route to Eden Park.