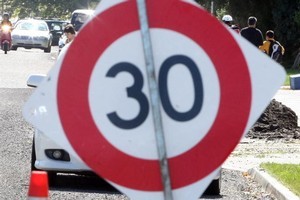 One of Auckland's most historic routes, Dominion Rd, will not get a $100 million upgrade after fierce opposition from local businesses and residents.
Auckland Transport yesterday said it would scale back the project and confine most of any widening of the road to the southern section between the Mt Roskill shops and the State Highway 20 motorway.
There will be no 24-hour "rapid transit" bus lanes on each side as proposed by the former Auckland City Council, although existing lanes and their operating hours may be extended along lines proposed by businesses and the Save Dominion Rd coalition.
That means the retention of on-street parking along much of the road, although cycle lanes will still be included "where room allows".
Bus-lane extensions will be mainly through intersections at main shopping centres to prevent buses causing congestion by merging with traffic.
Coalition co-organiser Penny Hickey, who supervised the collection of 6700 petition signatures against the project, said she was thrilled with the decision.
"I am euphoric. Dominion Rd has got a future now - it can plan, it's not held back by the [transport] designation, so that means investment can occur and there will be community life for future generations."

Dominion Rd Business Association chairman Chris Hammonds said the community had always argued that "a few small tweaks could solve the majority of problems without spending over $100 million".
He said his members agreed with extending the bus lanes through intersections, even though that would mean the loss of car-parking during their operating hours, which now run for two hours in the morning city-bound and two hours in the afternoon towards Mt Roskill.
Auckland Council member Christine Fletcher, who represents the area and sits on the transport body's board, said
one reason for reducing the scale of the upgrade was that the Waterview motorway, with its direct link between the airport and the city, would ease traffic on Dominion Rd.