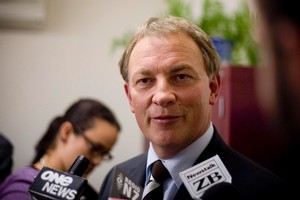 Labour has opened the door to a formal coalition with the Greens if it wins the election.
The Greens have never been in Government and were not wanted by the last Labour Government, but party leader Phil Goff said today that would change.
"I'd anticipate in the Labour-led government that the leaders of the Green Party, which would be a coalition partner, would have ministerial positions," he told reporters.
"I think it's premature to start talking about what positions those may be."
The two parties have become closer in recent weeks, with the Greens strongly backing the capital gains tax which Labour is going to announce on Thursday as part of its tax policy.
Mr Goff and his senior colleagues are refusing to discuss the capital gains tax proposal ahead of its formal release, which has left the Government with a clear field to attack it.
The Greens, who have always wanted a capital gains tax, have been defending it against those attacks.
The party's position on coalitions or support roles after the election has been kept open.
It isn't entirely ruling out working with National, but says it is much more likely to favour an agreement with a Labour-led government.
- NZPA