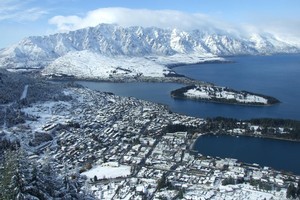 Thunderstorms are set to strike the southwest of the North Island this morning, with tornadoes possible, as one of the biggest storms of the year lashes the country.
A nasty front packing thunderstorms and gales that prompted a severe weather warning along the entire west coast of the South Island last night was expected to move northward this morning, bringing with it the risk of quick-fire tornados similar to those that ravaged Waikanae on Saturday.
Snow blanketed Queenstown yesterday and was forecast to spread to other parts of the South Island, with many alpine roads likely to be closed and heavy snowfalls possible in Fiordland and southern Westland.
Thunderstorm warning
Metservice have issued a severe thunderstorm warning, with thunderstorms due to lie near offshore Manawatu at 8.37am, and near Levin, Foxton, Shannon, Tokomaru, the northern Tararua Ranges and Himatangi at 9.07am.
The thunderstorms are expected to bring heavy rain, large hail, damaging wind gusts and possible tornadoes.
Surface and flash flooding is possible, and driving may be hazardous, MetService said.
Police are advising extreme caution when travelling over the Rimutaka Hill Road (State Highway 2) this morning, as high winds and strong gusts have been reported in the area, however the road remains open.
A Fire Service Central Communications spokesman said at 8.20am there had been no major weather-related callouts overnight or this morning, with a only few reports of downed power and trampolines which had been picked up in the wind.
MetService forecaster Paul Mallinson said the severe weather warning could be extended to the North Island this morning and he urged people to be "very mindful" of severe weather around them.
"These severe thunderstorms are primarily going to be agents for wind gusts of up to maybe 120km/h. As the cold front moves up through, there could also be tornados, especially along the coast."
Twisters or water funnels that formed in the storm were likely to be isolated, small and quick, Mr Mallinson said.
"If something develops in one of these storms, it would whip through an area in no time flat. If people feel threatened, they should go inside and take cover."
Weatherwatch.co.nz head weather analyst Philip Duncan compared the front to a horror storm last September that produced tornados, cut power to thousands of residents, closed roads and caused widespread damage.
Tornado risk to rise as front moves north
He said the risk of tornados would rise during the day as the front moves north, and Auckland would have an increased risk by this afternoon or evening and into tomorrow.
Other western areas from Fiordland to Waikato would have a similar tornado risk beginning earlier.
Mr Duncan said that while the odds of a tornado hitting homes was low, he urged residents to stay calm and indoors if one did.
"They should get into a small room or a hallway in their house and wait for it to pass, because they pass very quickly."
Mr Duncan also said boaties should put outings off for the week, because monster swells of up to 8m were expected to make conditions perilous for smaller craft.
"We're also expecting major wind and waves, so we're also asking people not to go fishing off the rocks as it's a recipe for disaster," he said.
MetService said northwest gales heading the front were forecast to be severe in the east of both islands and around central NZ at times today, while downpours were likely for the west of the South Island, the Tararua Range and a wide swathe of the central North Island stretching from Taranaki to eastern Bay of Plenty.
In Auckland, the Transport Agency said it would have extra maintenance crews on standby and would not hesitate to close the harbour bridge if the conditions became unsafe.
"We would urge people to drive with care and leave a little bit more time for journeys," state highways manager Tommy Parker said.
Snow for Southland
Snow is forecast to fall to above 200-300m in Fiordland and above 400-500m in south Westland and is likely to close many alpine roads between today and Wednesday and heavy snowfalls are possible in Fiordland and southern Westland.
The Queenstown region received a healthy dump of the white stuff over the weekend, with snow blanketing the town itself.
Coronet Peak ski area manager Hamish McCrostie, who last night was helping to get skiers off the mountain, said 20cm of snow fell overnight on Saturday and the same amount was expected last night.
Skifield operators who had earlier been starved of snow were delighted with the fall, Mr McCrostie said.
"We've gone from famine to feast."
Harley Aitken, manager of Queenstown's Bathhouse Cafe and Restaurant, said the town appeared "very beautiful" under its new white coat.
"The town has picked up and I think everyone's pretty happy - it looks like a wee winter wonderland."
State Highway 94 from Te Anau to Milford Road is closed this morning due to snow, while chains are essential and towing vehicles prohibited from SH8 Omarama to Tarras (Lindis Pass), SH6 Haast to Makarora (Haast Pass), Springfield to Arthurs Pass (Porters Pass) and Arthurs Pass to Otira.
Drivers are are advised to be cautious on SH6 from Kingston to Five Rivers due to ice on the road.
Clean-up in Waikanae
Elsewhere yesterday, tornado-struck Waikanae residents were banding together for a clean-up in the aftermath of a twister that injured dozens of people, trashed houses and sent trees, debris and cars flying through the air.
Linda Gibson, whose husband Peter was thrown 6m through the air and over a bank, said neighbours were helping one another to clear driveways of felled branches and debris.
Huia St resident Martin Devlin said two homes remained seriously damaged in his street - one had been struck by a fallen pine tree and the other by a "flying" shed.
The twister's 200m-wide path of destruction was clearly visible, attracting hundreds of curious sightseers.
STORM OF THE YEAR
What WeatherWatch is predicting from today:
* Risk of tornados
* Hail
* Heavy downpours
* Severe thunderstorms
* Squalls
* Gale-force winds
* Low-level snow in the lower south
* Monster swells
Severe MetService weather warnings issued already for today:
* Heavy rain: Westland, Fiordland, the ranges of Buller and Nelson, Tararua Range, Mt Taranaki and hill country from inland Taranaki to Tongariro National Park.
*Strong winds:Southland, Clutha, Otago, Canterbury, Nelson, Marlborough, Wellington, Wairarapa, Taranaki, Central Plateau, Wanganui, Manawatu, Gisborne, Hawkes Bay.
*Heavy snow: Fiordland and Westland south of the glaciers.