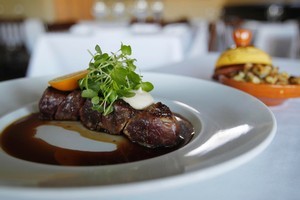 Restaurateurs hoping to fill tables during the Rugby World Cup may need to have a television tuned to the games or keep their kitchens open after matches have finished, a survey shows.
An American Express study has found the hospitality sector will need to show flexibility and cater to the rugby crowd, or face a loss of customers.
One in five diners said they would be more likely to eat out during the tournament if they could keep an eye on the score. One in six also said early and late restaurant sittings that took into account game times would be more likely to entice them to dine out.
Only 10 out of 48 games will be played in the afternoon, with all other matches kicking off at "dinner time" hours - between 5pm and 9pm.
Restaurant Association of New Zealand spokesman Mike Egan said his industry would welcome the opportunity to keep kitchens open later. He said New Zealand dining habits meant most chefs stopped serving at 9.30pm.
"It's supply and demand. In Europe there's a culture sometimes of not even going out for dinner until 9pm. We're a bit more Anglo-Saxon, everyone wants to eat at 6.30pm.
"But I know that restaurants will be much more flexible and will take advantage of any business coming their way."
Mr Egan said he did not think restaurants needed to downgrade themselves into sports bars for the tournament, but could consider placing a television in the bar.
"That would mean people can have a look. I don't think it will mean banks of TVs in restaurants and going to the French Cafe and seeing 10 TVs in there. If you want to watch the game on the big screen you'll go to a sports bar. But I think at a restaurant they might have the sound down so people can keep an eye on the game."
The survey also showed that while the hospitality industry was eagerly awaiting 60,000 international visitors, it should be aware that the rugby crowds could dissuade regular diners from eating out.
One in four Kiwis said they would visit restaurants and cafes less often during the World Cup. Aucklanders were even less likely to venture outside the home - around 33 per cent said they would give their regular eateries a miss in September and October.
CHEW IT OVER
1 in 4 New Zealanders will dine out less during the Rugby World Cup.
1 in 5 are more likely to dine out if they can keep an eye on the match score.
1 in 6 say early and late sittings and World Cup themed menus will entice them to dine out.
64 per cent of New Zealanders eat out at least once a month.