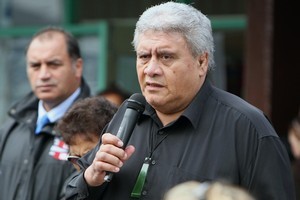 Every Maori Party electorate candidate and their campaign managers met yesterday to discuss what the party could learn from the Tai Tokerau byelection.
One party insider told the Herald the Huntly meeting was to put candidates on notice that if they weren't good enough, the party wouldn't stick with them come the general election.
Byelection candidate Solomon Tipene finished a distant third to Mana Party MP Hone Harawira and Labour's Kelvin Davis.
His campaign will be remembered for a disastrous first press conference and his party leader Tariana Turia casting doubt on his understanding of politics.
Maori Party co-president Pem Bird said the meeting was a chance to take stock of where the party was at and what candidates needed to do come November. The Tai Tokerau byelection was a good starting point, he said.
"We need to learn from what happened there. I think Solomon picked up and improved over the campaign ... in fairness we had no time to prepare him for the scrutiny he was subjected to by media.
"You go back to the initial media conference and I think we would have done a bit more training, a bit more time on reflection."
The Tai Tokerau arm of the party picked Mr Tipene. Asked if the party wanted more central control of the selection process to ensure weak candidates weren't picked, Mr Bird stuck by Mr Tipene but said the party was "looking at that selection process".
"We're not going to criticise Solomon or say he was the wrong candidate."
He rejected the position that current candidates had been put on notice, instead reiterating that all candidates including sitting MPs had to go through a renomination process.
Pundits have picked that the Maori Party could lose its hold on the Maori seats with the advent of the Mana Party and Labour filling out the tight election space.
But Mr Bird said there was no fear that would be the case.
"We're not fearful, we know we've done well.
"Some are predicting our possible demise but there's all sorts of permutations [of what could happen.]"
He said perception was everything in politics and his party had to do a better job of communicating what its wins in government had been.
Meanwhile, over the next week and a half the Maori Party is taking a Mana Party proposal to its membership on how the two might be able to accommodate each other at this year's election. An earlier agreement went up in flames before the byelection.