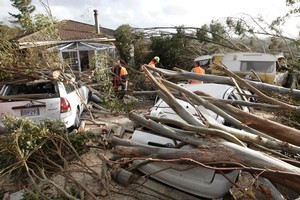 Wild weather will continue to lash much of the country over coming days, the Metservice warns.
A front is expected to hit the country tonight and tomorrow and the MetService said more fronts were expected to bring gales and heavy rain until about Wednesday.
People and cars were thrown into the air yesterday when a tornado smashed its way across a highway in Kapiti and ripped through coastal settlements "like a 737 roaring past".
The tornado swept in from the Tasman Sea and crossed the Peka Peka coast near Waikanae shortly after 4pm, smashing into cars on State Highway 1.
It then carved a 200m-wide path of destruction through lifestyle blocks, raining debris from ruined homes and farm buildings back on to the highway.
Weather worries
As well as the tornado, thunderstorms, heavy rain and strong winds also lashed much of the country from Waitomo to the west coast of the South Island.
The cold snap also brought a large dumping of snow to Treble Cone Skifield at Wanaka, bringing instability and a high risk of avalanche to some areas.
The weather was caused by westerlies from the Tasman, which had active troughs that "strengthened the winds and pushed thunderstorms across the country", Metservice forecaster Geoff Sanders told NZPA.
A significant amount of snow was also expected over the South Island mountains and snow could also fall to low levels in Canterbury, Otago and Southland.
The Lindis Pass on State Highway 8 is closed due to snow, along with SH94 between the Lower Hollyford turnoff and Milford Sound, the NZTA website reported.
Lewis Pass and Arthurs Pass were also closed to trucks and other vehicles must have chains.
In its latest weather warning, MetService said conditions have eased this morning in the wake of the front that crossed the country last night.
But it also said that another very strong front is expected to move onto the country later today bringing more severe weather with it through Monday.
Thundery rainfall is expected to reach warning thresholds once again in the west of the South Island overnight, about the Tararua Range, Mt Taranaki, and also about the hill country from inland Taranaki across to Tongariro National Park on Monday.
Severe westerly gales have eased in many areas this morning but they are expected to redevelop tonight in all eastern parts of the South Island and in the south and east of the North Island from early tomorrow.
MetService said these winds may damage buildings, trees and powerlines and make driving hazardous.
Snow is also expected to affect many high roads and alpine passes in the South Island, and motorists are advised to take extra care and check road conditions before travelling.
Tornado terror
Four people were taken to Wellington and Lower Hutt hospitals with a variety of injuries from yesterday's tornado, and others to local medical centres. Emergency services helped dozens of others with minor injuries and suffering shock.
Seven people were trapped in a home and another woman was injured when a tree crushed the caravan she was in.
Emergency services briefly sealed access to Waikanae and blocked SH1. Power was cut across the area and was still out in a cluster of homes last night.
Plumber David Kitchingham was taken to Hutt Hospital with glass embedded in his skin, but he was astonished to be alive.
Kitchingham pulled over on State Highway 1 about 2km north of Waikanae when heavy hail and poor visibility made it impossible to drive.
"I could see sheets of iron and debris, trees, just flashing past," he said. "There is a huge rumble, the van's shaking, then the next thing I know the van got picked up and tossed into a paddock 20 to 30 metres from where I pulled over.
"I remember going round and round, but whether I was going round and round in the air or round and round on the ground I'm not absolutely sure."
The van was deposited on its side in a paddock on the other side of the double carriageway.
As debris flew about him, David clambered out the broken driver's window - and dialled the number of his wife, Sandie.
"I'm in a twister," he said. "I'm okay."
Then the phone went dead.
David's first thought was for his wife Sandie and their children Ashley, 16 and George, 14. "I thought how lucky I am. They're too young to lose a dad."
David was taken to Hutt hospital with cuts and bruises, glass embedded in his arms and head and a sore neck.
But last night he was discharged from hospital to watch the Super Rugby final - first buying a Lotto ticket on the way home.
Engineer Peter Gibson, 58, was running for his house to escape the tornado when he was picked up and thrown six metres through the air and over a bank.
"I heard this dreadful noise, it was like a 737 roaring past," he said. "And these hail stones as big as marbles. I was running back to the house as I got picked up.
"I came round towards the house and the railway sleepers started flying away. I was thrown for about six metres.
"It was the biggest adrenaline buzz I've ever had."
Tiles were ripped from the roof of his house, a shed had disappeared and a dog kennel was flung 150 metres. Nearby, a small forest of pine trees was torn from the ground and fences destroyed.
Neighbour Pip McConnell said her husband Dean and three children sheltered in their walk-in wardrobe as the twister passed by. She said the Ngarara Road property had suffered around $10,000 worth of damage.
Their driveway was blocked in by several fallen trees, fences had disappeared and fully grown cabbage trees had been snapped like matchsticks.
A concrete bridge had fallen into a stream nearby. "It was terrifying for the kids."
Amelia, aged 7, said: "It was really scary".
Huia St resident Martin Devlin said hail stones the size of golf balls had fallen, and the power went out about 4pm.
Former Fair Go host Kevin Milne lives a few kilometres south of the tornado's path but he said his house was struck by a "terrific hail storm".
"I've never seen hail stones that size before ... I was worried that they were going to smash through some of the glass here."
Residents reported seeing trees broken in half on Paetawa Rd. One elderly resident said: "We wondered at one stage if the roof would come off."
Greenaway Rd resident Marie Gnewstubb saw broken trees and a van which had been tipped over from the wind.
"It was really quite banged up."
A barn was among the damaged buildings: "It looked like it had been partially demolished," said Gnewstubb.
Wellington Free Ambulance shift manager David Ross said a woman aged in her 30s was transported to Wellington Hospital suffering from moderate injuries from the house where the tree had fallen.
Three people from the van crash were taken to Hutt Hospital with minor injuries. Paraparaumu's Team Medical also treated three people for injuries.