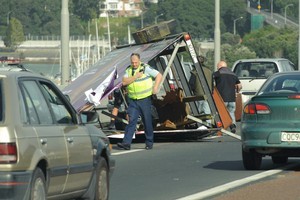 Snow, rain, gales and even tornadoes are expected to wreak havoc this week in what could be the worst storm of the year.
MetService is warning of possible severe thunderstorms for the west coast of the North Island and at the top of the South Island.
From midnight Friday until 7pm last night, weatherwatch.co.nz recorded almost 12,000 lightning strikes - most in that area.
Weatherwatch.co.nz head weather analyst Philip Duncan said the storms were the worst since the North Island was violently lashed in September. Taranaki through to Wellington was likely to be worst hit, with a high risk of thunderstorms, hail, gales and small-scale tornadoes.
In Woodville in the Manawatu, police reported hail lying a metre deep on the road. And further up state highway 2 in Norsewood, a truck driver was injured when his seven-tonne rig was blown off the road.
In Auckland, the nasty weather would arrive tomorrow, said Duncan. "There will be gales, heavy showers, lightning and thunder and a chance of tornado on top of that."
Yesterday, traffic was halted on the Auckland Harbour Bridge when strong winds blew over a mobile 6x3-metre billboard advertising the upcoming Erotica Lifestyles Expo.
Owner Steve Crow said it was blown over by a freak gust.
"It's really lucky no one was hurt," he said. In Raglan there were choppy seas, wind and rain yesterday. "We've had a torrential downpour, and it's been quite windy," said Vinnies restaurant owner Vito Cardo.
New Plymouth yachtie Jamie Sutherland said many boats were being kept safely on land. "It's been quite rough here all day, with 4m to 5m swells and strong squalls coming," he said.
High winds affected a search for an 83-year-old trapper in Canterbury. Allan Hill has been been missing since Wednesday.