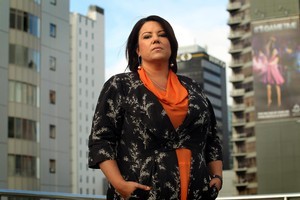 Youth Affairs Minister Paula Bennett broke young hearts after a paperwork error saw her announce the wrong winner at a prestigious school acting competition.
Bennett told a large crowd at the ASB Theatre that Cambridge school St Peter's had won the night - but a helper had given her the wrong slip of paper. Auckland's St Cuthbert's were supposed to have been crowned the champions in the Auckland leg of the 2011 Stage Challenge last weekend.
Overjoyed Cambridge students mobbed Bennett on stage after one of their number was presented with the prize. About a hundred students watching on a screen in the basement of the Aotea Centre, where most of the competitors were, started jumping for joy.
"The kids were stoked," said dance teacher Caroline Gill.
But tears followed about 30 minutes later when Gill had to tell them there had been a mistake. "I had to choose my words very carefully. It was difficult because they were disappointed.
From what some of the kids said, there were a few tears. Paula ... was very apologetic and sincere. It was a genuine mistake."
The hall had emptied by the time the error was sorted and St Cuthbert's students were belatedly told of their hollow victory.
Gill said the performance from St Cuthbert's was so good that suspicions had been raised as soon as the wrong winner was announced.
"There was a little bit of chat already. Some of the parents thought something was up.
"The real top score - and deservedly so - was St Cuthbert's."
Gill said her students expressed sympathy for St Cuthbert's, who missed out on the "glory" of going on stage in front of the audience. Gill suggested a visit to St Cuthbert's by Bennett or Prime Minister John Key might be in order.
Yesterday, an apologetic Bennett welcomed that suggestion. "I think that's fair enough. I'd love to."
Bennett knew instantly something was wrong after she announced St Peter's as winners. "I turned around and saw the look on the judges' faces."
She "probably would have corrected it straight away" but the judges and organisers needed to confirm a mistake had indeed been made.
Bennett said the St Peter's students were "really understanding".
She felt very bad for the person responsible for the paperwork error, describing her as "the poor thing".
Howick College head of dance Ichiro Harada, who was at the venue for 30 minutes after St Peter's were announced winners, said he was not aware until Monday an error had been made. "As far as I know there was no announcement. I heard about it on Monday. I only heard from some of the students and from Facebook."
Stage Challenge communications assistant Whetu Silver said Bennett was given a cue card with the wrong school written on it.
"There was no way of rectifying it on stage. As soon as the winner was announced the curtain went down."