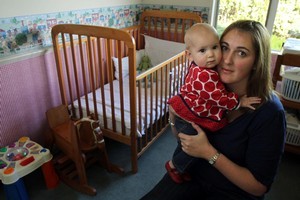 Worried mothers are demanding the Government investigate the safety of drop-side cots after the deaths of at least 32 children.
The United States consumer Product Safety Commission banned all such cots last month after problems with sliding sides were implicated in 10 years of infant and toddler deaths.
Mumsontop.co.nz director Marilynn McLachlan has called on New Zealand consumer authorities to review the cots' safety standards or at least educate the public about their safe use. Drop-side cots are common in Kiwi households, featuring a side-rail that can be manoeuvred up and down so children can be lifted out easily.
But American authorities have reported malfunctioning fittings, the failure of cheaper plastic parts and assembly problems that lead to the moveable side-rail partly detaching.
This was found to sometimes leave a dangerous V-shaped gap between the mattress and side rail, where a baby could get caught, suffocated or strangled.
McLachlan has received reports of such drop-side cots here and says the Government should not wait for a Kiwi baby to die before acting.
She surveyed the 2300 mumsontop.co.nz Facebook supporters this week and received several reports of apparently unsafe drop-side cots.
One woman talked of using one she knew ought to be repaired, another was using wedges for support, while another admitted buying a dodgy one from overseas.
McLachlan urged Kiwi authorities to update their 6-year-old safety standards for cots to make sure they were as strong as possible. If authorities did not believe standards needed upgrading, then the Government should at least provide more education on the importance of sturdy cots.
When parents bought products from overseas or second-hand, McLachlan said, there was an increased chance they could be putting their infants at risk.
Ministry of Consumer Affairs spokesman Alastair Stewart said authorities had not received any reports of injuries from drop-side cots but liaised regularly with child safety agencies such as ACC and Plunket.
"Should we receive a report, we would look into this and determine whether any action should be taken," Stewart said.
IT PAYS TO CHECK
Vania Dunn checked her baby daughter's drop-side cot this week - and she reckons other mums should do the same.
Ten-month-old Asha sleeps in a second-hand wooden cot that requires "pressure from your knee" to get the sides down. Dunn said it had been wrongly assembled by accident in the past. When the sides wouldn't work properly, the Clevedon mother got it reassembled.
Dunn, a former physiotherapist, was concerned that many Kiwi families used second-hand, imported or "done-up" drop-side cots similar to her. She feared there would be an infant death before anything was done.