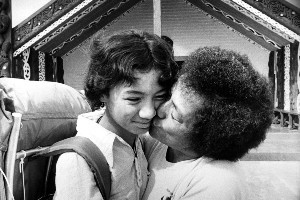 When Tokorua Leaf (then Richards) first saw this photograph of her mother, Ngareta Richards, giving her a big kiss on the front page of the New Zealand Herald she was overcome with home sickness.
It was only a couple of days after the picture was taken in 1979 and 13-year-old Tokorua was staying at a marae in Opononi.
The trip, organised by the Department of Maori Affairs, took young urban Maori to stay at rural maraes to learn about their whakapapa.
"I was at the marae and everyone was screaming out to me, 'You're in the paper'," said Tokorua.
She was wearing her first pair of Levis, bought for her by her mother for the occasion. Ngareta also kitted her daughter out with a new backpack.
The bus ride from her home in Otara, where Tokorua was a pupil at Bairds Intermediate, took the children through Waipaua forest.
Tokorua recalls narrow, winding, unsealed roads barely wide enough for the bus.
The two-week trip had good times and sad. Tokorua remembers dancing to Michael Jackson hits at a disco in Opononi. At the marae, there were kapa haka performances, te reo classes and tikanga lessons on Maori customs and history.
The most intense part of the experience was attending the tangi of a woman who had travelled from Auckland with the group. She drowned trying to rescue a child who got into trouble while out swimming.
"That was really scary for me," said Tokorua. "We couldn't wait to get home after that."
The trip made a life-long impression. Tokorua, who is of iwi Nga Puhi and Ngati Whatua descent, had not previously spent time up north.
Those roller-coaster few days she spent as a 13-year-old in Opononi planted the seed for her future and forged lasting friendships. "I always wanted to come back to the Hokianga to reattach to the whanau."
Five years ago, Tokorua moved from Auckland to live permanently in the Hokianga and now works as administrator at the Rawene kohanga reo.
A key influence in her life is former New Zealand First MP Peter Brown, who she met for the first time during the trip.
"All my years of growing up, my mum used to always call him for advice," said Tokorua.
However, that didn't stop her voting for maverick MP Hone Harawira in the recent Te Tai Tokerau byelection. "He used to live up the road in Otara. I've believed in him since way back then," said Tokorua.