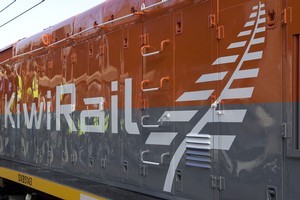 More than a thousand people gathered for a rally in Dunedin today hoping to persuade KiwiRail to scrap plans to cut 70 jobs.
The company is looking to cut 40 jobs in Dunedin and 30 in Lower Hutt, from a workforce of 172.
The redundancies followed the company's decision to use overseas firms for a $500 million construction job for the electrification of the Auckland rail network and to build 300 new container flat top wagons, Rail and Maritime Transport Union acting national secretary Todd Valster said.
He called on the Government to stop exporting jobs overseas and start investing in New Zealand industries and jobs.
"We know the Government can and should intervene to save these jobs."
More than a 1000 people gathered today to hear speakers from the opposition parties, Dunedin City Council, the Chamber of Commerce, Greenpeace and trade unions, who all called on the Government and KiwiRail to keep these jobs in New Zealand, Mr Valster said.
KiwiRail is spending $29 million on buying the Chinese-made wagons, rather than spending an extra $7m building them locally, and is axing the jobs so a smaller workforce can maintain its stock.
It is buying a total of 500 Chinese-made wagons.
Rail workers plan to picket the arrival of Chinese made wagons expected in Tauranga on Thursday.
- NZPA