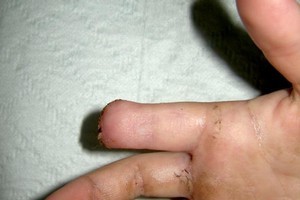 A toddler's fingertip had to be amputated after a sticking plaster left on for two weeks cut off her blood supply.
The 3-year-old cut the tip of her right index finger on glass, says a report in yesterday's New Zealand Medical Journal on what is thought to be the first case of its kind.
Her parents dressed the wound with Band-Aids, one placed length-wise, the other around the finger.
"After initially complaining of pain, she refused to have the dressing removed despite multiple attempts by her parents," plastic surgeon Marcus Bisson and registrar Jonathan Heather wrote in the report.
After two weeks, her parents took her to Hutt Hospital but the flesh at the fingertip had died. A photo of the hand in the Journal shows blackened dead flesh almost to the first joint.
The authors said this was the first case of a Band-Aid-type plasters cutting bloodflow that they knew of.
They said people without health care training might not be aware of the risk that the pressure of sticking plasters could restrict bloodflow.
"Adhesive-dressing removal may be facilitated by the application of peanut oil or alcoholic hand steriliser. These simple steps may have avoided such a disastrous complication of an initially trivial wound."
Last night, Auckland GP Dr John Cameron said: "Be very careful putting dressings completely around fingers or toes. Make sure any dressing is reasonably loose, firm enough to hold on but free enough not to cause discomfort.
"If it causes any discomfort get it checked out, and don't leave dressings on for too long - no more than 48 hours, or earlier if the kid is complaining of severe pain."
A Band-Aid spokesman said all packets warned that the dressings should be changed daily.