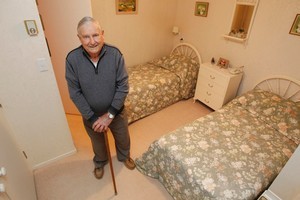 Offers of help have flooded in for an English couple left with nowhere to stay during the Rugby World Cup after a lodge cancelled their booking.
More than 60 people contacted the Herald to offer free or cheap accommodation to Kieran Lean and his girlfriend Chantal Hyom after their plight made yesterday's front page.
Last night, Mr Lean's mother, Mandy Lean, told the Weekend Herald the response had been incredible.
She had received phone calls from concerned New Zealanders who offered accommodation and apologised for the treatment of her son and Ms Hyom.
Mrs Lean said the couple had been at a loose end since learning their booking had been cancelled.
"All the week the two of them have just been going around in a stupor because they just had all their plans blown out of the water.
"But now the pair of them are absolutely beaming.
"If they smiled any wider their faces would crack."
The couple, both 19, can now choose from a variety of spare rooms, apartments and sleepouts, ranging in location from the Viaduct Harbour to as far afield as Napier.
Retiree Bill Mead epitomised the response when he offered the couple a room in his two-bedroom unit in Hillsborough Heights Retirement Village.
The 76-year-old said what happened to the couple would damage New Zealand's reputation.
"I'm a rugby man ... but I don't want to be the best in rugby and the worst in hospitality. I don't know whether mine might be the most suitable place, because they're young, they want to party."
Mr Mead said if the couple did stay they could pay whatever they thought appropriate.
"They've got the free use of the house. I do not cook for them, but there's a kitchen, if they want to cook they can cook."
Mr Lean and Ms Hyom had booked a three-week stay at Bond St Motor Lodge, five minutes walk from Eden Park, at a rate of $278 a week.
But this week lodge management told them their booking, made four months earlier, would not be honoured unless they paid a new rate of $350 a night.
Kate Millington said Mr Lean and Ms Hyom were welcome to share her Eden Terrace home with her and her daughter, their two cats and "geriatric dog".
Jim Towler and his wife Margaret said on top of a free room at their Birkenhead home they could provide free meals and help with transport to matches.
The Herald has passed on more than 60 offers to Mr Lean and Ms Hyom for them to consider.