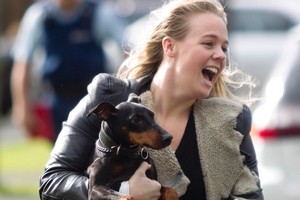 The owners of two dognapped Manchester terriers have been reunited with both their dogs - thanks to eagle-eyed Herald readers.
Bella, 5, and her son Dexter, 2, were stolen on Monday night when thieves drove off in a black Audi A4, with the pair sitting in the back.
Owners Angela Lewis and Grant Brown spent the next three days frantically following leads, texting a clairvoyant, organising four searching cars in areas of sightings, emailing, calling, Facebooking and asking people on the street.
Bella was found "shaking" in Puhinui Park by Ms Lewis, around 4pm on Thursday but Dexter was still missing.
The Weekend Herald received a call from a member of the public around 9.30am yesterday, saying they had seen Dexter and the stolen car.
Mr Brown was searching close to the tip-off location, and quickly flagged down a passing police vehicle. After three cars arrived as back-up, police entered a Papatoetoe house, near where Bella was found.
"When [the police] went in there, the guy gave himself up virtually straight away," he said.
Sergeant Andrew Readings found the missing dog inside a rear garage, and walked out with an "elated" Dexter in his arms. The policeman has multiple scratches on his arms from trying to calm the 2-year-old dog.
"They were the scratches from a very happy dog. I don't think he enjoyed where he was."
The black Audi is still missing, and one man from the address was helping police inquiries, said Mr Readings.
But the car isn't a high priority now the "kids" are home, said Mr Brown.
"I don't believe it. Life will return a little bit back to normal," he said. "We're going to have some celebratory drinks."
Ms Lewis, who spent three days calling her pet's names constantly, still has her voice.
"It was my huge fear that they were not going to survive the roads. I couldn't believe they were gone, and I can't believe they're back."
The dogs' weekend will be filled with lots of treats, and some Animal Planet viewing - one of Dexter's favourite activities, said Mr Brown.