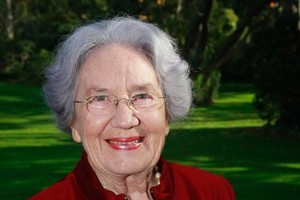 Sir Edmund Hillary's children are hoping to resolve a public feud with their stepmother and "move on" for the sake of their father's legacy.
A bitter family rift emerged last year when Lady June Hillary tried to sell a collection of the late explorer's watches to the Swiss auction house Antiquorum.
The divide between Sir Ed's son and daughter, Peter and Sarah, and their stepmother deepened over clashing visions for the Himalayan Trust, a foundation set up by Sir Ed to give back to the Nepalese Sherpas who helped him climb Everest.
Lady June has given a rare television interview in which she blames Mr Hillary for the problems.
But Mr Hillary yesterday told the Weekend Herald he and his sister Sarah wanted to put the problems behind them and try to heal the rift.
He said the relationship with Lady June had always been turbulent, but a solution in the best interest of his father's legacy was needed.
"I'm willing to do anything. I'd be willing to go to a mediator or just sit down with some sensible, impartial people."
Sarah agreed and said she'd like to "see the family together".
"We have been a family for a long time and definitely don't like to be in an antagonistic situation at all. No one of us enjoyed it at all.
"I'd like to resolve some of the issues."
Lady June refused yesterday to indicate whether she was willing to enter mediation.
"Peter Hillary has created a rift between him and me," she said in the television interview with ABC.
When asked by the Weekend Herald whether she was open to a family reconciliation, she replied: "There's nothing much more for me to say."
The row over the watches blew up in November last year.
The Hillary children eventually won an injunction preventing the sale of their father's watches and two weeks ago gained possession of them.
One of the watches, a Rolex Oyster Perpetual, was presented to Sir Ed after his ascent of Mt Everest in 1953.
He wore the watch on an Antarctic expedition to the South Pole in 1958.
It is valued at more than $25,000 and the Ministry of Culture and Heritage has deemed the watch an object of importance.
The second public row with Lady June involved the Himalayan Trust. Mr Hillary said the good work of the trust was starting to slip away.
In light of the trust disagreement and the watch collection's recovery, Mr Hillary said he would like to heal the rift.
"The upshot of it is, we would really like to have some communication and try to be progressive in all this business, whether it relates to the watches or whether it focuses on re-energising the Himalayan Trust."