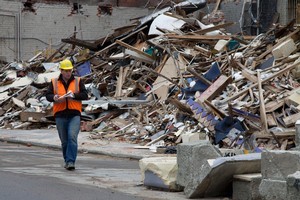 A Canterbury University geotechnical expert says Christchurch isn't out of the woods yet when it comes to aftershocks.
An American expert believes the city can be cautiously optimistic that the worst of the earthquakes is over.
Dr Mark Quigley says that prediction was based on the fact June's aftershock sequence was less energetic than that which followed the February earthquake which is a fair observation.
However, Dr Quigley doubts it's all over.
"We want to move on, we want to say this is it, but I think anyone looking at the data and anyone who has compared it to other cities, I think it would be silly to say we're totally out of the clear," he told Newstalk ZB.
But Cantabrians are not letting that threat stop them from rebuilding their city, with the largest construction site in the country currently inside the Christchurch Red Zone.
Close to 100 diggers and 80 trucks are working there for 20 different demolition companies.
As well as being the largest, Canterbury Earthquake Recovery Authority demolition spokesman Warwick Issacs said that it is still increasing and hasn't reached its peak by some way yet.
He says most contractors are fully committed to their work.
"There's not a lot of spare capacity left now for additional jobs so we're now starting to programme jobs whereas before if we get one over the line we could but now it's programming."
But Mr Issacs said the site is also the most dangerous.
"These buildings are to come down so there's a danger around the buildings and now there's a lot of trucks moving around, big heavy trucks, they don't slow down quickly."
He said the June 13th aftershocks put a bit of a halt to the work.
- Newstalk ZB