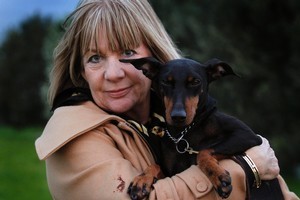 One of two Manchester terriers dognapped while sitting in the back of a car has been found.
Bella, aged 5, was discovered last night sitting in a South Auckland park.
She and her son Dexter, 2, were in the back of a black Audi A4 stolen on Monday night from Remuera.
The dogs were sitting on rugs and under a cover on the back seat.
After a tip from a Great South Rd store, owner Angela Lewis found Bella sitting in the middle of Puhinui Park in Papatoetoe - 15kms from Remuera.
"I thought it was a pukeko, then I thought it was a black cat. But then I thought it's Bella, it's the way she was looking at me."
Bella was sitting "shaking" and "traumatised" on the highest point of the reserve, she said.
"I just cried and cried when I saw her ... I just couldn't believe it."
On Wednesday, Ms Lewis had contacted a clairvoyant who told her to look in "empty rugby fields and places that are a bit run down".
Ms Lewis and her family had also been sending out flyers, using Facebook and had contacted taxi drivers, tow-truck companies, the police, SPCA and Animal Control.
Grant Brown, Ms Lewis' partner, yesterday stayed at "control room" to take phone calls and co-ordinate four searching cars.
Reports of black dogs wandering around the Papatoetoe and Manukau area rolled in to the Herald all yesterday, but many were false alarms.
While Bella is safe, Dexter is still missing, as is the car. Paw Justice yesterday offered a $1000 reward for Dexter's safe return. He has a short black coat with tan markings and was wearing a silver choker chain.