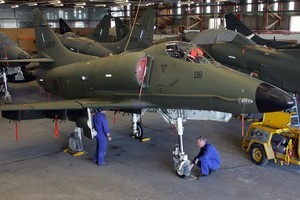 Three more aviation museums around the country have been told they will get a Skyhawk fighter jet to display.
The air force put its fleets of Skyhawks and Aermacchi jet trainers on the market when the Labour Government decommissioned them nearly 10 years ago.
When they failed to sell after a world-wide marketing campaign, the Government decided late last year nine Skyhawks would go to museums around New Zealand and Australia and the rest would be sold by tender.
Six Skyhawks have already been allocated to museums and today Defence Minister Wayne Mapp said the other three would go to the New Zealand Warbirds Association at Ardmore, south of Auckland, Ashburton Aviation Museum and the Warbirds over Wanaka in Central Otago.
Aermacchis would also go to the Air Force Museum at Wigram in Christchurch, the George Hood Aviation Museum in Masterton, and the Museum of Transport and Technology (Motat) in Auckland.
Dr Mapp said the Skyhawks and Aermacchis were "aircraft with a proud service record".
"In their day the two fleets were key assets of the Royal New Zealand Air Force. Now they are a central part of our aviation history.
"Over the years, in various ways they have touched the lives of thousands of New Zealanders. Now they will be on display around the country for the enjoyment and education of future generations."
He said they would be significant drawcards everywhere.
The Government earlier announced two Skyhawks would go to the Air Force Museum and one each Motat, the Classic Flyers Museum in Tauranga, the Aviation Heritage Centre in Blenheim and the Royal Australian Navy Fleet Air Army Museum in Nowra near Sydney.
The decision to send a Skyhawk to Nowra was because of the air force's long association with the Australia Navy. A fleet of New Zealand Skyhawks was based at Nowra to train with Australian warships.
Dr Mapp said because the Skyhawks were built in America, the Government was obliged to get approval from the American State Department before they could be moved to the museums from Woodbourne air force base near Blenheim.
The remaining eight Skyhawks and 13 Aermacchis are being sold by tender.
- NZPA