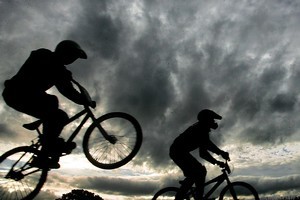 A 15-year-old Northland student has died a week after he fell from his bike and broke his neck on the Whangarei BMX track.
Dion Felton, from Kerikeri, was riding on the track at Pohe Island late last month when he fell and broke the top of his spine. He was unable to move.
St John paramedics were called and took the injured youth to Whangarei Hospital where he was placed on life support. He was transferred from Whangarei to Auckland by helicopter.
He was operated on during the week but on Saturday - seven days after the fall - he died. Dion was not competing in a race and was using the track which was open to the public.
Since his death a tribute Facebook page R.I.P Felton has been flooded with messages.
He is described on the page as "a kind young man who cared for everyone he knew". He had recently started work at New World supermarket where he had made many more mates.
"Dion loved BMX and he died doing what he loved which we all would like to pass away doing what we love ... RIP bro," said one message.
Kathy Elliston said she would miss his smiling face and her thoughts were with his family - mum Trudy and brother Rhys.
"Suddenly life just isn't the same without the caring kind person we have all come to no and love," Kalen Rocque said.
While another friend Kelsey Oldham said: "Such sad news for everyone.
Taken from us in a blink of an eye. You will be dearly missed."
Whangarei BMX Club president Stuart Bell said the club was in shock over the death and their thoughts were with the young man's family.
Deaths on BMX tracks were rare and it was common to have them open for the public to use at their discretion, Mr Bell said.
The track is built on an area which was the former Pohe Island rubbish tip.
American BMX track expert Tom Ritzenthaler - who built the Olympic track in Beijing - designed and built the Whangarei BMX track.
Touted as one of the best tracks in the country the national championships were held on the course in April 2009. "The track has been built to meet international standards and safety was a key component during it's construction," Mr Bell said.
"It's regretful to see a freak accident has caused a fatality. It's important to learn how this happened and if there is anything we can do to prevent this from happening again in the future."
The land the track it is on is owned by the Whangarei District Council and leased to the BMX club.
Yesterday, the council's Chief Operating Officer Jude Thompson said that as soon as they were alerted to the death by the BMX club they contacted the Department of Labour and had been informed the matter is with the coroner.
For more articles from this region, go to Northern Advocate