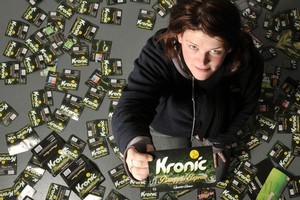 A five-month Kronic binge has cost Kristyn Scott and her partner $8500, but despite crediting the product with helping her get a job and stopping her seizures, she remains determined to quit.
The 22-year-old Dunedin woman, who has had epilepsy since she was a teenager, contacted the Otago Daily Times after learning Pineapple Express, her preferred brand of Kronic, contained the banned prescription medicine phenazepam.
Concerned over the effects the added anticonvulsant was having - although she had not had a seizure for five months - she has cut her consumption and decided to go public with her story.
She and her partner first tried synthetic cannabis in February after spotting an advertisement for the product in a video store and deciding to spend their last $12.
"We didn't know it was going to do anything ... we thought it was a load of rubbish."
However, five months later, the couple have tried every synthetic cannabis product on the market, saying the products gave them a more "intense" high than cannabis. They even kept the empty packets - all $8500 worth.
"The dairy we go to even knows me by my first name ... and we are their best customers."
Ms Scott said she preferred the synthetic version to real cannabis, of which she was once a casual smoker.
"It was a natural product, it got us way higher than pot, it is legal, cheaper, easier to get and you get way more than in a tinny [of cannabis]."
She alone has consumed more than 110 packets of the now banned Kronic Pineapple Express - ranging from a 1.25g pack ($20) to a 7g pack ($80), with the larger pack lasting about around three hours.
With the two strongest varieties, Pineapple Express and Juicy Puff Super Strength, both banned, she has gone off synthetic cannabis.
"I just think with the amount of money I have spent on this, I would have been able to buy a car."
While the anticonvulsant contained in Pineapple Express may have contributed to her not having a seizure, the self-described former "party animal" said it had made her withdrawn and anxious.
"I am concerned over what this is doing to my system."
In addition to headaches, she has experienced skin problems and weight gain as a result of frequent "munchies". Children outside dairies have also asked her to buy the product for them.
An unexpected side-effect of switching from cannabis to Kronic was that it helped her and her partner get jobs, as they were able to pass drug tests and she wanted to remain drug-free.
To deal with her addiction, Ms Scott is talking to counsellors and will probably enter a detox programme, with her sights set on studying nursing next year.
"This is not the life I want to lead."
- ODT