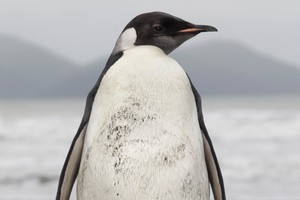 There's plenty to be happy about for the country's favourite penguin after Bluebird said yesterday that it would donate as much as $20,000 to The Happy Feet Appeal.
Antarctic creatures have been part of Bluebird's advertisements for years, so it makes sense that the chip maker would chip in to help Happy Feet get back on his feet, the company said.
Bluebird will donate 5c from every packet of Kiwi As 150g chips sold until November 2011 to the Wellington Zoo appeal.
Managing director Gerard Smith said Bluebird had been following the penguin's story. Between now and November, Bluebird would expect to sell around 400,000 packets of Kiwi As chips, he said. That could mean at least $20,000 towards Happy Feet's cause and other penguin-related initiatives.
"Penguins are close to our heart," said Mr Smith. "We're happy we can do our part in helping Happy Feet return to the ocean, and support treatment for other penguins at the zoo."
Marlborough-based New Zealand King Salmon has donated 100kg of salmon smolt (juvenile fish) to help restore Happy Feet, who has been eating up to 2kg of the salmon each day, back to health.
Marketing manager for New Zealand King Salmon, Stephen Gibson, said the company usually donates salmon to the zoo but doubled their supply to support the "incredible survivor" who swam more than 3000km to reach New Zealand shores.