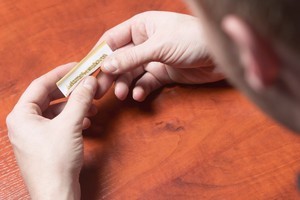 A growing number of small, home-based manufacturers are importing chemicals from China to make synthetic cannabis - often then packaged with labels printed from a home PC.
The mostly Chinese factories market the ingredients online. The ingredients are legally imported into New Zealand and then dissolved and sprayed on plant materials to make products similar to Kronic.
Chris Fowlie, co-owner of the Hemp Store in central Auckland, said there had been a sharp increase in smaller "garage" producers, based mostly outside Auckland.
"[They can] spend two minutes on Google to find a factory that will sell them the stuff ... find some herbs to spray it on, and go down to Mitre 10 and find a sprayer, and make it."
Recent screening by Environmental Science and Research (ESR) revealed Kronic's Pineapple Express and Cosmic Corner's Juicy Puff Super Strength contained the prescription sedative phenazepam.
Both are made by established manufacturers, but Mr Fowlie said the growth of smaller producers posed a greater health risk to the public.
Large manufacturers use a solvent to dissolve the crystalline-form cannabinoids into a "bath", into which herbs are dipped before being dried out.
But home-based manufacturers spray the cannabinoid solution from a bottle.
"It's very difficult to judge that all the herbs have been evenly sprayed, so the dosage can vary quite dramatically."
Mr Fowlie said such products could be spotted by their home-made labels.
"Seemingly every week there's a new brand. And with the speed that they're coming onto the market, I doubt that they're doing much in the way of research or testing on them."
ESR's general manager of forensic research, Dr Keith Bedford, said the screening of just over 40 synthetic cannabis products represented only a "snapshot" of the industry.
Former party pill king Matt Bowden told the Herald the synthetic cannabinoids in Pineapple Express were imported from China.
Flavourings and other materials came from the United States and Europe.
He denied knowledge of phenazepam's presence in Pineapple Express and labelled it a "contamination".
"This batch was imported at a time when our usual supplier could not meet demand, so it was most likely purchased from another supplier. We will not be using this supplieragain."
Mr Bowden said the Chinese chemical supplier under suspicion was also used by the makers of Juicy Puff Super Strength.
Mr Fowlie said it was essential to have an established relationship with a supplier.
"We currently use facilities in Mexico and Thailand ... we made a decision that we actually want to avoid some of these Chinese factories, that you really can't trust them."
WHAT PETER DUNNE DID AND DIDN'T DO
June 3: On why he didn't ban synthetic cannabis products outright:
"The evidence wasn't strong enough to go that far, and I didn't want to go down that path and then be challenged in court and overturned. Because you end up looking a bit silly at that point."
March 30: on limiting sale and advertisement:
"I have instructed the Ministry of Health to begin the process of putting the necessary controls in place. I expect these changes to come into effect next year."
June 17: On why Law Commission recommendations to make suppliers prove the safety of synthetic cannabis before sale could not be introduced until after the election:
"We're under certain statutory requirements and we have the complications of a general election occurring."
Yesterday: A spokeswoman for Prime Minister John Key said Mr Dunne was seeking advice around including some of the commission's recommendations into next month's amendments.