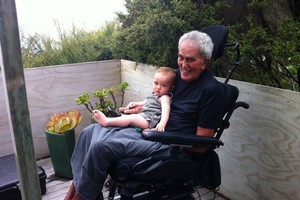 David Yates has struggled with a debilitating illness for seven years. But at 70, this courageous former GP says he remains lucky to be alive.
It is 87 months since the onset of my motor neurone disease in March 2004. During that time there have been some promising developments in research, but they have not resulted in any definitive treatment.
The subject of euthanasia has been raised in the media about a few people with illnesses such as motor neurone disease (MND) and their desire to prematurely end their lives by that process.
I think that it would be an extremely small part of the medical and ancillary management of such diseases. In 28 years of general practice -sometimes attending to people with deadly diseases - I found that they had indomitable spirit when faced with their mortality.
Although I didn't specifically ask them during that time, not one patient said that they wanted assisted death.
Pain is the most feared thing in the last stage of life. Both patient and family were reassured that adequate symptom relief would be available at all times.
My Herald article in June last year prompted positive responses from people with MND.
They all wanted to get on with life and make the most of their lot.
While I know - and respect - that some would like to have the option of legal euthanasia, I suspect that most would not choose it.
In pre-hospice days, I found that patient and family were reassured when told they they could contact me after hours, on my home phone, if they needed advice or a house visit. After the hospice was established, I attended to them 24/7 whenever they were admitted. This happened for several years, until I was obliged - along with other GPs, to stop what I considered to be the ultimate and final service to my patients - when the board deemed that we could no longer attend our patients as doctor of first call.
I have sometimes thought that it would be far less contemporaneous stress for my family - especially my wife, who bears the brunt of my care - if I was dead. It is human nature for the family and the patients to want to stay together for as long as possible.
Resolution is reached if the patient still enjoys waking up to see their loved ones and the family say they are happy to care for them.
My wife, carer, GP, district nurse and occupational therapist ensure that I have as good a quality of life as possible.
The degenerative process even affects the muscles of the lip and face, progressively rendering them poorly functional or non-functional. The loss of tactile communication means I cannot cuddle, kiss or pick up my 16-month-old grandson.
However, I consider myself so lucky to still be alive to be with him.
I apologise for not replying to all the people who sent me emails about my article last year. It's a daunting task to reply, given my limitations, but you are still on my reply list.
It has taken 17 hours to type this article, using Switch XS with Prediction and a head-activated switch. Switch XS has allowed me to maintain contact with the outside world. It allows me to do anything - I mean anything - I want to do on my computer.
I hope my articles have raised your awareness of motor neurone disease and that you will consider donating to the Motor Neurone Disease Association. This money will help them provide a much-needed service to people like me and to finance research.
There are about 200 to 250 people in New Zealand with motor neurone disease at any one time. The Motor Neurone Disease Association says the cause is not known and that the disease takes three different forms.
The association's address is in Auckland at PO Box 24036, Royal Oak,1345.