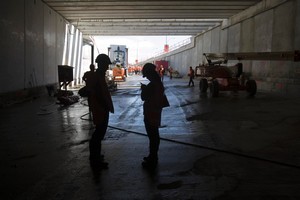 The last of 366 30-tonne concrete beams has been put in place over a $340 million tunnel being built through Auckland to ease motorway traffic.
The 450m tunnel under Victoria Park in central Auckland would open in November, three months ahead of schedule, the New Zealand Transport Agency (NZTA) said.
The tunnel will have three north-bound lanes, and four south-bound lanes from the harbour bridge will use the existing Victoria Park flyover.
The last beam was placed over the tunnel at the weekend and NZ Transport Agency state highways manager for Auckland and Northland, Tommy Parker, said its placement cleared the way for an increase in activity inside the tunnel.
Below ground electrical and mechanical services, including lights, extraction fans and communication and fire protection systems are being installed. The tunnel's fire lining is 80 per cent complete and traffic barriers are being built.
Mr Parker said the Victoria Park tunnel project would be the first of the seven roads of national significance identified by the Government as essential to New Zealand's economic prosperity to be finished and would remove the last bottleneck on the motorway network through central Auckland.
The tunnel will open to two lanes of traffic in November. All three northbound tunnel lanes and the four southbound lanes over the Victoria Park flyover should be open by the middle of January.
In another significant milestone, designation and resource consents to build the Waterview Connection have been granted.
Mr Parker said it was an exciting decision, clearing the way for NZTA to shortly name the consortium which would build the country's largest roading project.
The Waterview Connection through the Auckland suburbs of Avondale, Mt Albert and Waterview was the vital last link in the Western Ring Route which would create an alternative 48km motorway between Manukau and Albany by linking the southwestern, the northwestern and the upper harbour motorways.
Construction will start later this year.
- NZPA