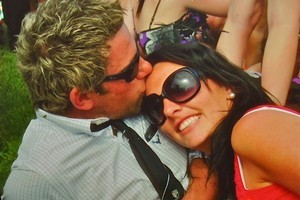 The widow of murdered farmer Scott Guy is steeling herself for the task of unveiling his headstone as the first anniversary of his death nears.
Mr Guy, 31, was shot dead outside his family home on Aorangi Road on July 8 last year.
Ewen Kerry Macdonald, who is married to Mr Guy's sister Anna MacDonald, has been charged with the killing.
Widow Kylee Guy today said a part of her had died with her husband.
The hardest thing for her was planning the unveiling of Mr Guy's headstone to mark the first anniversary of his death, she said.
"It feels like I am organising it for someone else and in reality I shouldn't have to be doing this. He should be here with me and the boys, he did not deserve this.
"But my Scotty only deserves the ultimate best. I will always make sure he gets that.
"It's going to be indescribably hard and so unfair. Life will never ever be the same.
A part of me has died with Scott."
Mr Guy was an amazing husband and father, Ms Guy said.
It was a constant struggle to live with the love and affection he gave to her and the couple's two sons - Hunter, 3, and nine-month-old Drover.
"To lose our Scotty is so unfair. The most horrible feeling is having no choice but to live without him. Life has not been easy at all, continuously struggling each day.
"I still feel he is coming home, I cannot understand that this has happened. How could a young man who lived for his family, who would not hurt anyone, have the most sweetest and kind nature and that everyone loved; be taken from us."
Mr Guy's parents Bryan and Joanne Guy said their lives had changed forever at the moment their son was murdered.
They had changed their priorities since their son's death.
"The heartache we experience is not something we expect to overcome, but rather learn to live with. Anniversaries of a week, a month or a year seem insignificant. Time does not lessen the pain of losing a beloved child.
"Each day now we choose to focus on what we have left, not what we have lost. Because of Scott we have learnt to appreciate each moment and try not to hold on to things. What used to be important is no longer, and priorities change."
Ewen Macdonald has made no application for bail and has been remanded in custody until August 3.
His barrister Greg King has indicated he will plead not guilty to Mr Guy's murder.