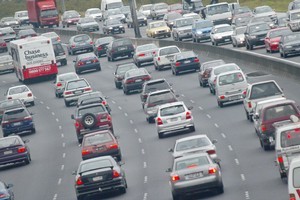 Takapuna and Petone are Auckland and Wellington's respective worst suburbs for the morning commute into the two cities' CBDs, a study has found.
And in the evening, Remuera is the worst to return from the central city to in Auckland, while Hataitai and Oriental Bay have the worst traffic heading back from the CBD in Wellington.
The study, by location and navigation provider TomTom, compared the time it takes to make the trips off-peak (between 1am and 5am) and peak hour (7am to 9am in the morning, and 4pm to 6pm in the evening).
The data was provided by TomTom navigation devices between July 1 last year and February 28.
The average commute from Takapuna to the Auckland CBD between 7am and 9am is 28 minutes 25 seconds, up from 10 minutes 12 seconds during the free flow period, an increase of 179 per cent. Albany was the next worst in Auckland for the morning commute, with the average morning commute at 40 minutes 48 seconds, up from 16 minutes eight seconds off-peak, an increase of 153 per cent.
The best morning commutes in Auckland were Ponsonby (with an increase of only 36 per cent), Parnell (38 per cent), and Mt Eden (40 per cent).
Heading east proves to be more problematic for commuters: The average commute from the CBD to Remuera stretches from eight minutes 26 seconds to 19 minutes seven seconds, an increase of 127 per cent, and the commute for those heading home to Papakura stretches from 13 minutes 34 seconds to 29 minutes 33 seconds, an increase of 118 per cent.
The best evening commutes for Auckanders are Glendowie (an increase of 44 per cent), Devonport (50), and Mt Eden (52).
Commuters heading in the CBD from north of Wellington have the worst morning commute, with Petone residents taking 26 minutes 47 seconds on average to get in to town, up from 12.09, an increase of 120 per cent.
Johnsonville commuters take 19 minutes 29 seconds to get to the CBD, up from nine minutes 17 seconds, an increase of 110 per cent.
The best morning commutes are for Island Bay (whose trip time increases by 47 per cent during peak hours), Oriental Bay (43 per cent), and Khandallah (32 per cent)
In the evenings Hataitai and Oriental Bay residents have the worst commutes, with their trip times both increasing by 85 percent during 4pm and 6pm.
Porirua has the best evening commute, with the trip only increasing by 29 per cent in evening peak hours.