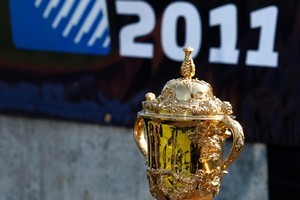 New Zealand teenagers are being urged to tell rugby World Cup officials why they should be chosen to carry the flags of competing teams when the tournament begins around the country in September.
A competition opened today to find nearly 100 14-16-year-olds and applicants have been told they have 50 words to put their case.
The teens selected will carry the national flags of the 20 competing teams at 12 sporting grounds around the country.
All but four of the flagbearers for the 48 matches, starting with the opening pool game between New Zealand and Tonga at Eden Park in Auckland on September 9, will be drawn from New Zealand. The final, also at Eden Park, is on October 23.
As well as carrying flags, the competition winners will also get two match tickets for their parents or guardians.
Entries need to be lodged by July 31.
Organisers said as games were not being played in Christchurch because of the earthquakes, entries from that area would be considered for matches in Dunedin and Nelson.
Cup officials hope more than 1.6 million spectators will go to the games around the country. The global television audience is expected to be more than four billion people in over 200 countries.
- NZPA