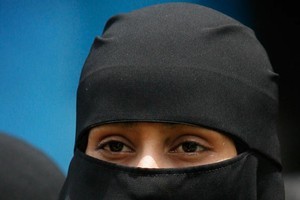 National and Labour leaders are calling for tolerance after two Muslim women wearing veils ran into trouble with Auckland bus drivers.
The two drivers were given a final warning and counselling after two incidents in May. In one case a Saudi Arabian student was left crying on the street after a bus driver refused to let her board because of her veil and in the other a driver for the same company told another woman to remove her veil.
The Saudi Arabia Consulate-General complained to the Government about the incidents.
NZ Bus told Fairfax Media both drivers had been sent on counselling programmes - and had been found to be suffering from "maskophobia".
"Both drivers ... claim it's not religious ... but they genuinely have a phobia of people wearing masks, hence why we have not dismissed them," general manager Jon Calder told the newspaper.
Prime Minister John Key said he was comfortable with people wearing veils.
"I am yes, it doesn't offend me and I respect people's beliefs and it's a matter for others," he told reporters.
He said in some cases it would not be appropriate to wear a veil for security reasons but in general they shouldn't be an issue.
"New Zealand's a tolerant and inclusive society. I think where practical on both sides, people should respect others' cultural and spiritual beliefs."
Labour leader Phil Goff agreed.
"When I was a kid, a young Catholic kid, all the nuns those days wore the gown and they had all of their hair covered, and we thought nothing of it," he said.
"I think it's live and let live - we're a tolerant society, we allow people who are not doing harm to others to dress and behave as they wish, as long as its within the law. I personally don't like the burqa (veil) at all, but if somebody chooses to wear that and that's their personal choice and it's not doing harm to me, then I'm not going to tell that person how they should present themselves."
The husband of one of the women intended to lodge an official complaint with the Human Rights Commission.
A commission spokesman said the incidents appeared to amount to discrimination on religious grounds.
One driver had completed counselling programmes, had visited a mosque and had apologised to one of the women. The other was undergoing the same programme.
The Phobic Trust chief executive Marcia Read said people could be phobic of anything, and phobias could affect anyone at any time.
- NZPA