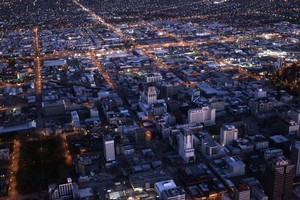 Development of Auckland's infrastructure - including key road and rail projects - will proceed as planned before the Christchurch earthquakes took a $5.5 billion bite out of the Government's finances.
Quake-ravaged Christchurch and economic powerhouse Auckland are the focus of a $22 billion, four-year infrastructure investment plan detailed by the Government yesterday.
But the plan also underlined the Government's intention to develop water infrastructure, including irrigation schemes, to increase economic output.
Releasing his second national infrastructure plan, Infrastructure Minister Bill English said the Government would spend $7.6 billion on social assets such as schools, hospitals, housing and prisons, $6.5 billion on roads and about $1.5 billion each on fast broadband and rail services.
"In addition we've set aside $5.5 billion to rebuild Canterbury and state-owned enterprises are spending billions more upgrading their own own assets," Mr English said.
But although the Government was committed to rebuilding Christchurch and Canterbury, it pledged to continue its existing infrastructure investment elsewhere and would continue to look for additional projects "that would make a significant positive impact on productivity and economic growth".
A spokesman for Mr English said the earthquake rebuilding was to be funded from additional borrowing, leaving previously budgeted funds available for infrastructure projects elsewhere including Auckland.
Giving little detail about specific projects and containing no information about fresh initiatives, the second national infrastructure plan drew criticism from Labour as being little more than a rehash of last year's plan.
But the plan did emphasise areas where the Government believed infrastructure could be better managed to underpin economic activity. An obvious example was water, an area where investment analysis, funding mechanisms and regulation "does not occur or is ineffective".
This year Agriculture Minister David Carter announced $35 million in funding over five years to support development of irrigation proposals.
Associate Infrastructure Minister Steven Joyce said the plan highlighted progress so far and strategic opportunities for telecommunications and transport infrastructure which were central in supporting faster economic growth.
In the plan, the Government also signals it is likely to look more closely at user charges such as road tolls to help fund infrastructure investment.

It also emphasises the need to "use lessons from Christchurch" to improve the resilience of infrastructure networks.