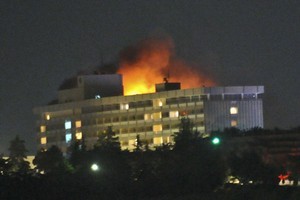 The Defence Force says there is no evidence New Zealand SAS soldiers were wounded by friendly fire in last week's Afghan firefight, but the possibility cannot be categorically ruled out.
Two special air services (SAS) troops were wounded when International Security Assistance Force troops stormed the Intercontinental Hotel in Kabul last Thusday after suicide bombers and armed insurgents attacked.
The Australian Broadcasting Service (ABC) on Saturday quoted a senior Afghan police official as saying that one of his men accidentally shot and wounded a New Zealand soldier as forces tried to retake the hotel.
Reports said Afghan police had apologised.
Defence Force chief Lieutenant General Rhys Jones said today media speculation over friendly fire had been growing since the attack.
"I do not have the luxury of being able to speculate; the information I require has to be as exact as possible," he said.
Lt Gen Jones said information from New Zealand troops indicated the injuries were the result of insurgent action.
"We have no evidence to suggest that any of their injuries were the result of 'friendly fire', although we cannot categorically rule that out," he said.
"What I can categorically state is that the Defence Force has not received any apology from Afghan authorities."
Lt Gen Jones said counter-terrorism operations were complex and confusing, and clearing a large, multi-storey building of an unknown number of insurgents was as one of the most difficult tasks to undertake.
He was critical of the publication of an image over the weekend that led to speculation about New Zealand troops' capabilities, saying that could lead to the development of tactics to counter their effectiveness.
"The situation is exacerbated by our operations in Kabul occurring under a media spotlight which makes discreet activity even more difficult," he said.
Lt Gen Jones said he saluted the courage and professionalism of the troops in what was "an extremely dangerous and difficult situation".
Both New Zealand soldiers wounded in the attack had responded well to medical treatment and one had fully recovered, he said.
Prime Minister John Key earlier said reports over friendly fire were unlikely to be true.
"I've asked the chief of Defence Force about that and the view is that is not the case.
"While there will always be an investigation into these matters and they are complex when you have a number of agencies involved, as was the case with the shoot out at the Intercontinental in Kabul, the view is they don't think it's likely it was friendly fire," he told Breakfast on TV One.
The hotel was hosting an Afghan security conference and a wedding when the insurgents struck killing nine Afghan civilians, mostly hotel workers in the lobby, two police officers and a Spanish citizen, reportedly an airline pilot on a stopover in Kabul.
Three insurgents were shot dead and five blew themselves up as Nato forces retook the hotel.
- NZPA