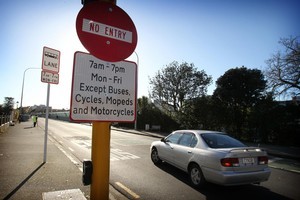 Auckland Transport is wrestling with how to make bus-lane signs on Grafton Bridge clearer for unfamiliar motorists, including Rugby World Cup visitors, without upsetting the Historic Places Trust.
Its chairman, Mark Ford, was among several board members at its monthly meeting who showed unease at the number of drivers breaching a ban on general traffic on the bridge between 7am and 7pm on weekdays.
That followed a revelation that 14,253 bus-lane infringement notices were issued for the 101-year old bridge - at $150 each - over the 12 months to the end of May.
The blowout has prompted Auckland Council members Cameron Brewer and Calum Penrose to accuse the transport organisation of "money-hungry militancy" which could damage the city's reputation during the Rugby World Cup.
It is in contrast to a general improvement in bus lane compliance, which has halved the average monthly number of infringements from 300 in 2007 to 150.
Chief operating officer Fergus Gammie told Auckland Transport's board a report on bus-lane policy and implementation before the end of this month would include recommendations on ways to improve signs.
But Mr Ford said the council-controlled organisation needed to focus on Grafton Bridge.
"People are making mistakes all the time - I don't think they are deliberate," he said.
Parking and enforcement manager Eunan Cleary said the former Auckland City Council wanted to erect larger signs on the bridge but was stopped by concerns about compromising the bridge's heritage values.
Board member Christine Fletcher said that as a former Auckland mayor who approved an early version of the busway project incorporating a strengthened Grafton Bridge, she was annoyed at how the traffic restriction had been applied.
"I think there should be a better way of informing people because they are often in crisis and need access to the bridge," she said in reference to those caught while driving to Auckland City Hospital for treatment or to visit patients.
Auckland Transport chief executive David Warburton said officers were looking at options similar to temporary low speed limits outside schools at certain times of the day, which flash when children are arriving or leaving.
A difficulty with the bridge, unlike other bus lanes, was that those who drove on to it before realising they were in the wrong were unable to get themselves out of trouble.
Board member Rabin Rabindran told Mr Cleary before the bridge issue was raised that his staff should not feel embarrassed or apologetic about enforcing bus lane compliance.
"That's the law and I don't see why we should be soft on it - if bus lanes are breached it affects everybody who uses public transport."
But Mr Cleary said a change in enforcement policy last year to allow motorists to use bus lanes for up to 70 metres before making left turns, instead of a legal maximum of 50m, was about "being fair and pragmatic".
Auckland Transport also last month waived an infringement notice against a new mother in the hospital's maternity unit whose excited relatives drove her car across the bridge to visit.
Alison Vaughan said the driver of her car had been waiting at the intersection of Karangahape Rd and Symonds St, from which no signs barring access to the bridge were visible.
Auckland Transport spokeswoman Sharon Hunter said the fine was waived because the driver was from outside Auckland and unfamiliar with the area, but he could not expect leniency for a repeat offence.
"We have a specific policy for out-of-towners because they are unfamiliar with the city," she said. "It's a one-strike-and-you-are-out approach."
Other offenders arguing the odds would be considered case by case and might be required to produce documentation such as a doctor's certificate for a medical emergency.
BIG NUMBERS
* 14,253: bus-lane infringement notices were issued for Grafton Bridge over the 12 months to the end of May.
* $150: the cost of a ticket.
* 7am-7pm: general traffic is banned on the bridge between these hours on weekdays.
* 150: the average monthly number of general bus-lane infringements.