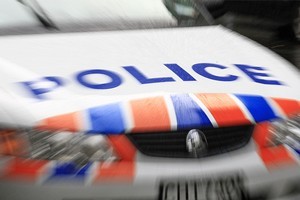 A critically injured teenager is fighting for his life after what police believe was a hit-and-run by a taxi.
The 18-year-old was left lying in the middle of a quiet suburban street in Papamoa, near Tauranga, after being dropped off with a friend about 1am yesterday. The two boys had been drinking in Mt Maunganui when they called a taxi to take them home.
The boy was left bleeding from serious head injuries on Palm Beach Boulevard. His mate ran for assistance from a nearby house, yelling for help and banging on the door.
A nurse who lived next to the scene told last night how she fought to keep the boy alive while emergency services raced to help.
"He was quite injured," the woman said."We assisted him and called the services. I really felt for him. He was in a bad way." The couple did not want to be identified.
Tauranga Mount Taxis owner Sukhwinder Singh said the company had been contacted by the police. "We had more than 25 drivers on the road at the time.
I've been ringing my drivers and asking them if they've seen anything but nobody could give me any information."
He said police told one of his drivers a man had been hit in Papamoa and police were trying to find out who was responsible. "They said they were keeping eyes on everyone," he said. "They had a police dog and brought it to the car to smell it."
Singh said he understood police were mostly checking hybrid taxis.
Alert Taxis managing director Robert van Heiningen, which had Taxi Cabs Tauranga Ltd as a subsidiary, said he was contacted by police yesterday. "They thought it was one of our cars but it wasn't. Our vehicles are GPS tracked. None of our vehicles were within cooee."
Mt Maunganui St John Ambulance officers took the teenager to Tauranga Hospital. A St John spokesman said the boy was in "a very, very serious condition" with head injuries.
Police blocked off the section of Palm Beach Boulevard between 1 and 2am and again later in the morning. They placed markers next to marks on the road.
About 50m north of where the boy was hit, orange paint marked more stains resembling vomit nearer to the curb.
Detective Sergeant Lindsay Pilbrow said details remained vague. "We are just trying to piece together what has actually happened. It might not be what it appears."
Pilbrow said until they spoke to the taxi driver, expected to take place last night or today, it would be unfair to say if the driver was involved. Companies were co-operating.